Friday, 10 May 2013 - Reported by Paul Scoones

Sunday 12th May sees the broadcast of two four-part Peter Davison stories,
Earthshock
and
Snakedance
on Australian and New Zealand television. They are screening as part of the 50th Anniversary season of
Doctor Who
on the
UKTV
channel.
Earthshock
is scheduled to screen in both countries at
2:40pm
.
Snakedance
is scheduled in New Zealand at
4:20pm
and in Australia at
4:30pm
. New Zealand has an additional screening on Monday 13th May at
2:40am
and
4:20am
respectively.
Earthshock
was first broadcast in Australia in 1982 and in New Zealand in 1983.
Snakedance
was first broadcast in both countries in 1983.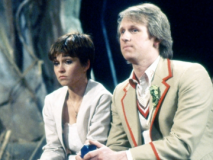 The UKTV billing describes the stories as follows:
Earthshock: In the 26th century, a party of soldiers led by Professor Kyle & Lt. Scott investigate the death of a palaeontologist murdered by androids while studying dinosaur remains in a cave.
Snakedance: The Tardis lands on Manussa where Tegan once again gets possessed by the Mara, who plan to break into the physical world.
UKTV is showing stories throughout the year in the lead-up to the anniversary in November. The stories are two of a set of six stories featuring Peter Davison's Doctor due to be broadcast during May. The rest of the month's line up includes:
Frontios
and
Resurrection of the Daleks
(19 May), and
The Caves of Androzani
(26 May).
Up-and-coming broadcasts from both 20th and 21st Century series of
Doctor Who
can be found via UKTV's
Doctor Who
sections for
Australia
and
New Zealand
.