Thursday, 30 May 2013 - Reported by Paul Scoones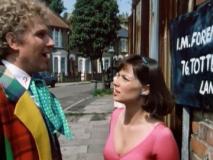 Sunday 2nd June
sees the broadcast of the 1985 Colin Baker story,
Attack of the Cybermen
on Australian and New Zealand television. The story is presented as part of the 50th Anniversary season of
Doctor Who
on the
UKTV
channel.
In New Zealand the story screens at
4:25pm
and in Australia at
4:30pm
. New Zealand has an additional screening on
Monday 3rd June
at
4:40am
.
The UKTV billing describes
Attack of the Cybermen
as follows:
While trying to fix the TARDIS's chameleon circuit, the Sixth Doctor returns to Foreman's Yard on Totter's Lane in 1985, where he meets his old enemies the Cybermen.
Attack of the Cybermen
was first broadcast in Australia in 1985. New Zealand did not get to see it until 1989. The story was originally screened in Britain as two 45-minute episodes, but was first broadcast in Australia and New Zealand in a four-part format. The UKTV transmission will feature the two-episode version of the story.
UKTV is showing stories throughout the year in the lead-up to the anniversary in November. The stories due to be screened during June all feature Colin Baker's sixth Doctor. The schedule includes:
Vengeance on Varos
(9 June),
The Mark of the Rani
(16 June),
The Two Doctors
(23 June),
Revelation of the Daleks
(30 June).
Up-and-coming broadcasts from both 20th and 21st Century series of
Doctor Who
can be found via UKTV's
Doctor Who
sections for
Australia
and
New Zealand
.