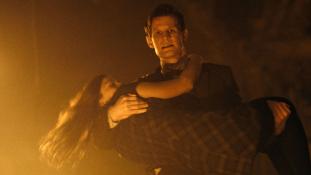 The Name of the Doctor
had an Appreciation Index, or AI score, of
88
.
The Appreciation Index or AI is a measure of how much the audience enjoyed the programme. The score, out of a hundred, is compiled by a specially selected panel of around 5,000 people who go online and rate and comment on programmes.
Doctor Who
scored higher than most of Saturday's output with only
Dad's Army
on BBC 2 scoring higher with 89.
Britain's Got Talent
scored 84, with the
2013 Eurovision Song Contest
scoring 69.
The score of 88 is the highest score since the season opener,
Asylum of the Daleks
, which scored 89.