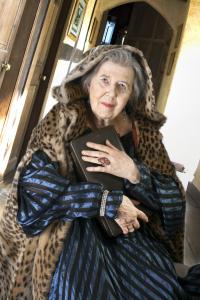 A drama production featuring
Damaris Hayman
reprising her role as white witch Olive Hawthorne from Third Doctor story
The Daemons
is to be released on DVD later this year.
White Witch of Devil's End
is a
Reeltime Pictures
spin-off and, according to producer
Keith Barnfather
, despite nearing the age of 84 Hayman jumped at the chance of playing the role again.
Hayman herself said:
I shall retire, I think, in my coffin! Miss Hawthorne was my all-time favourite role and I was enchanted by the thought of being her again for a little while. After a lot of working together consulting over the scripts I'd subsequently never enjoyed filming more, and I can't wait now to see the final result.
Barnfather commented:
I was amazed and delighted that, as an octogenarian, Damaris was prepared to take this on. We had recently recorded an interview with her for our Myth Makers series profiling actors who had appeared in Doctor Who and I already knew she still had a hunger to act. But I really didn't expect her to be so keen.
Because of her age, the actress knew she had to pace herself, so director
Anastasia Stylianou
decided to film the drama in a "talking head" style, adding dramatic cutaway material to bring the words to life. Stylianou said:
I knew it would be a challenge. We needed to film a 50-minute drama at least, so I decided to make an asset out of a limitation.
Primary filming has already taken place at a cottage near Hayman's home, with the crew collecting and returning her each day. Once back home each evening, she was able to recover and study the next day's script.
Barnfather said:
We used autocue to help Damaris. It was an impossible task for any actor to learn so much dialogue. She was a true professional and took to it instantly.
A release date of
Thursday 31st October
- Halloween - is planned, and Stylianou added:
It's just getting all the dramatic cutaway material "in the can" that is crucial. The drama is really an anthology – a set of connecting stories about Olive's life told, as it were, in her own words.
Barnfather, who contacted pal
David J Howe
at
Telos Publishing
when considering who should write the stories, stated:
I thought it would be fantastic to ask individual writers knowledgeable in the occult and magic to write each story and David, through Telos, knew so many of the best young talent in the country.
Howe and his partner
Sam Stone
contacted several authors they felt would be sympathetic to the material and got them all on board for the project. Stone, who is an award-winning author, said:
I took on the task of outlining the whole story and then asked the writers to come up with ideas which fitted that framework. We needed to tell stories at different points in Olive Hawthorne's life, and the writers rose to the challenge and delivered scripts which exceeded all my expectations. I then worked with them to refine the scripts into the completed screenplay.
As well as Howe and Stone, the writers involved in the project are
Raven Dane
,
Debbie Bennett
,
Jan Edwards
, and
Suzanne J Barbieri
, with a final script polish being applied by Big Finish writer
Matt Fitton
.
The DVD, which will be region-free, is available to pre-order
here
. Extras are yet to be finalised but will include a "Making Of . . . " feature as well as interviews with the authors.