A roundup of some of the independent publications that have recently been published or announced.
Fifty Years in Time and Space: A Short History of Doctor Whoby Frank Danes
282 pages, published by St Mark's Press, out now
St Mark's Press has just released a new, unauthorised, single volume critical history of the programme: "
Fifty Years in Time and Space: A Short History of Doctor Who
". The author is
Frank Danes
and the cover is by
Roger Langridge
, whose work regularly appeared in
Doctor Who Magazine
.
Frank is Head of English at King's Ely school in England. He's written
Victorian Literature
for Cambridge University Press and those of us with long memories may remember that he co-edited the fanzine
Fendahl
way back in the late 70s and early 80s.
Fifty Years in Time and Space
is a well-written, amusing and carefully researched guide.
Frank comments:
I was born in 1965 – on a Saturday, in fact, and just in time to watch 'Galaxy Four' episode two. Some of my earliest memories are of watching the programme: I remember my twin brother and I putting our hands over the screen when the Yeti appeared, prompting yells of 'Get those twins away from the television!' from my elder brothers. I've always been a Doctor Who fan even as I have become (in Terrance Dicks' words) older, fatter, greyer, but not noticeably wiser.

The book is available direct from
St Mark's Press
, or from
Amazon
, Galaxy 4, Who One, The Who Shop and other bookshops.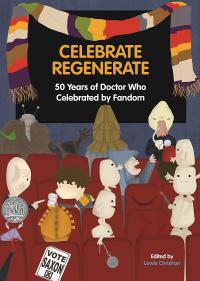 Celebrate Regenerateedited by Lewis Christian
due for publication 13th July 2013
In order to aid the celebrations of Doctor Who's 50th anniversary this year, quite an epic-sized group of fans have come together from all over the world to build Celebrate Regenerate, a fan-made (non-profit and unofficial) book, filled with reviews and articles covering every televised story.
At over 300 A4 pages, this doorstop of a book is packed with pieces from over 250+ fan writers, and we've even included some fanart too. To top it all, we've also bagged a few exclusive interviews with Series 1 director,
Joe Ahearne
; writer
Tom MacRae
, and writer
Joseph Lidster
which will be published alongside some other special features in the book.
The project, now a year in the making, is set to be released on
13th July
this year, well in time for the anniversary. We aim to simply add to the growing list of contributions from other fans and writers, and our goal is now to reach out to as many fans as possible to share our finished project.
(Up until 8th July, we're offering everybody the chance to have their name listed in the book as a 'Companion' too, to make up for them not knowing about this and being able to submit)
This is an non-profit, unauthorised and unofficial fan publication, and will be available for free for download in PDF format; it will also be possible to purchase a physical copy via lulu.com.
For more details, visit the
Celebrate Regenerate
website and
Facebook page
.
Liberating Earth, A Faction Paradox Collectionedited by Kate Orman
due for publication by Obverse Books in May 2014
Coming in May 2014 from
Obverse Books
:
Liberating Earth
, an anthology of science fiction and fantasy written entirely by women, edited by award-winning Australian author
Kate Orman
.
In
Liberating Earth
, rival cousins from the mysterious time-travelling Faction Paradox cult decide our planet should be freed from the human race and placed in better hands. As the cousins ruthlessly compete to create the perfect alternative Earth, history and reality change wildly again and again. Humanity is helpless. Or is it?
SF and fantasy readers and viewers, especially women, are increasingly calling for more work by female writers. Stuart Douglas of Obverse Books has commissioned Liberating Earth in response to that demand.
Editor Kate Orman was the first woman published in the
Doctor Who: the New Adventures
range of novels, eventually writing and co-writing a total of thirteen Who-related books, as well as publishing original fantasy and science fiction.
Liberating Earth
will be printed in hardback and ebook formats in May 2014.
Other recently reported publications include
Time and Relative Dimensions in Faith
,
Time & Space Visualiser: The Story and History of Doctor Who as Data Visualisations
, and
Companions: 50 Years of Doctor Who Assistants