BBC Books
have released details on two hardback publications to tie in with the 50th Anniversary celebrations this coming Autumn.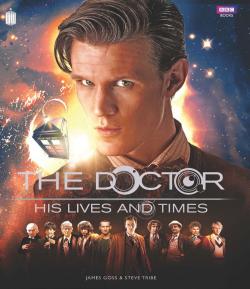 The Doctor: His Lives and Timesby James Goss and Steve Tribe
Published by BBC Books on 26 September 2013, hardback"I'm the Doctor. I'm a Time Lord. I'm from the planet Gallifrey in the constellation of Kasterborous. And I'm the man who's going to save your life."
He's made a mark on almost every era of history, and he's touched millions of lives across space and time. In these pages you'll find just some of the stories behind those brief encounters, each of them addressing the question that must never, ever be answered:
"Doctor Who?"
This is the story of an impossible life – of a man who borrowed a spaceship, travelled through time and continually saved the universe - as told by the Doctor's friends, by his enemies, and by the man himself. Letters, journals, trial records, secret government files and the occasional bit of tabloid journalism reveal the never-before-told story of Gallifrey's last Time Lord.
Contributors to His Lives and Times include: Colin Baker, John and Carole E. Barrowman, Tim Berners-Lee, Nicholas Briggs, Jenna Coleman, Paul Cornell, Rusell T Davies, Peter Davison, Terrance Dicks, Neil Gaiman, Mark Gatiss, Waris Hussein, Bonnie Langford, Paul McGann, Steven Moffat, Matt Smith, Laila Ward and Marcus Wilson.
The Vaultby Marcus Hearn
Published by BBC Books on 24 October 2013
Drawing on unseen and iconic material from the BBC archive and private collectors,
The Vault
is an unforgettable journey through 50 years of Doctor Who, via carefully selected photographs, props, costumes designs, production memos, letters, scripts and more.
This is the full and official story of
Doctor Who
, from the first pre-production memos in 1963 to the most recent props created for the 2013 series, including interviews with key players and scores of prop photos, design sketches and behind the scenes stills from every decade of the show's production. Taking you year by year through the world's
longest running science fiction series, Marcus Hearn explores the show's groundbreaking innovations as well as its impact on popular culture through books and comics, magazines and toys, merchandise and ephemera.
The Vault
is a collector's dream, and the ultimate celebration of
Doctor Who
.
Also re-released in paperback:
The Wheel of Iceby Stephen Baxter
Published by BBC Books on 1 August 2013, paperback
The Wheel. A ring of ice and steel around a moon of Saturn, and home to a mining colony supplying Earth. It's a bad place to grow up.
The colony has been plagued by problems and there are stories of mysterious creatures glimpsed aboard the Wheel. Many of the younger workers refuse to go down the warrenlike mines anymore. And then young Phee Laws, surfing Saturn's rings, saves an enigmatic blue box from destruction.
Aboard the Wheel, the Doctor, Jamie and Zoe find themselves caught in a mystery that goes right back to the creation of the solar system. A mystery that could kill them all.