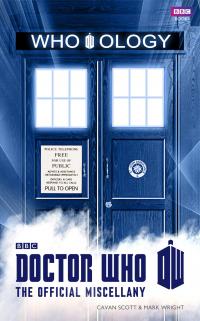 BBC Books
is to bring out a fact-filled Doctor Who publication next month. Entitled
Who-ology: Doctor Who - The Official Miscellany
, the 384-page hardcover book, compiled by
Cavan Scott
and
Mark Wright
, will be available from
Thursday 2nd May
.
Do you know your Sontarans from your Silurians? What are the 40 best ways to defeat a Dalek? What are the galactic co-ordinates of Gallifrey?

Test your knowledge of the last Time Lord and the worlds he's visited in Who-ology, an unforgettable journey through 50 years of Doctor Who.

Packed with facts, figures, and stories from the show's entire run, this unique tour of space and time takes you from Totter's Lane to Trenzalore, taking in guides to UNIT call signs, details of the inner workings of sonic screwdrivers, and a reliability chart covering every element of the TARDIS.

It also includes tables, charts, and illustrations, as well as fascinating lists and exhaustive detail.
Scott has written books, audio dramas, and comics strips based on series including
Doctor Who
,
The Sarah Jane Adventures
,
Skylanders
, and
Judge Dredd
. He has also written about the Doctor's adventures in
Doctor Who Magazine
and
SFX
.
Journalist and author Wright, who is also a regular contributor to DWM, has written audios, short stories, and comic strips featuring new adventures for the Doctor, along with tie-ins to other series such as
The Sarah Jane Adventures
and
The Power Rangers
.
Who-ology
is available to
pre-order
.