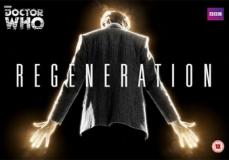 The
BBC
have finally
confirmed
that the
Regeneration
set that has been listed on Internet sites such as the BBC Shop and
Amazon
will indeed be released in June.
As the title implied, this release deals with the Doctor's regenerations, and will be presented as a limited edition, "coffee-table" book which will include six DVDs covering the adventures associated with the change of actor - and includes the premiere of the newly animation-enhanced
The Tenth Planet
on DVD.
The full list of stories are:
The Tenth Planet
,
The War Games
,
Planet of the Spiders
,
Logopolis
The Caves of Androzani
,
Time and the Rani
,
Doctor Who: The Movie
,
Bad Wolf/The Parting of the Ways
, and
The End of Time
.
Regeneration
will now be released on
24th June
and not 10th as originally scheduled.