Big Finish
have released details on the latest adventures for the Doctor and his companions in April ...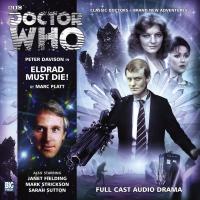 Eldrad Must Die!
(available to pre-order)
Starring Peter Davison as The Doctor, Janet Fielding as Tegan, Mark Strickson as Turlough, and Sarah Sutton as Nyssa, with Stephen Thorne as Eldrad.
"A Doctor, curse his name, threw me down among the dead… but I endure. I am Eldrad… and I must live!
A nuclear icebreaker, foundering in Arctic waters. Seabirds washed up in the fishing resort of Ambermouth, their wings encrusted with crystals. A shining artefact of uncertain provenance, up for sale on an auction site.
All of these things are linked, as the Doctor, Nyssa, Tegan and Turlough are about to discover. Linked to the rebirth of a genocidal tyrant, presumed dead many years ago…
For the sake of the planets Earth and Kastria alike… Eldrad must die!
The Library of Alexandria
(available to pre-order)
Starring William Russell as Ian Chesterton, with Susan Franklyn as Hypatia
The port of Alexandria, 5th Century AD.
The Doctor, Ian, Susan and Barbara have taken a break from their travels, and are enjoying a few weeks in the sunshine – and the chance to appreciate the magnificent Library of Alexandria.
Ian also takes the chance to enjoy friendship with the philosopher Hypatia - but things here will not last forever.
The time travellers know that the library will soon be lost to history.
What they are about to discover is the terrifying reason why...
Competition
:
Thanks to Big Finish we have five copies of
The Library of Alexandria
for this month's competition. To be in with a chance to win, please answer the following question:
The Library of Alexandria is part of Egypt's history, but what is the name of the Fifth Doctor's travelling companion who hailed from a much earlier era of the Pharaohs?

Send your answer to
alexandria-competition@doctorwhonews.net
with the subject line
"Was that your Mummy?"
, along with your name, address, and where you saw the competition (the news website, twitter, facebook, etc.). Only one entry per postal address will be accepted. The competition is open worldwide, and the closing date is
30th April 2013
.