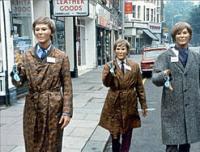 Spearhead From Space
has been chosen by
BBC America
to represent the Third Doctor in its
Doctor Who: The Doctors Revisited
celebratory season.
A documentary entitled
The Doctors Revisited: The Third Doctor
will air on
Sunday 31st March
at
8pm Eastern/7pm Central
, followed by the four-part story that ushered in the
Jon Pertwee
era.
The documentary will see
Steven Moffat
,
Caroline Skinner
,
David Tennant
, and
Hugh Bonneville
discussing how the Third Doctor brought action and stunts to the series. It will also feature other as-yet-unspecified contributors.
A swarm of meteorites falls in the English countryside, bringing with it a terrible new threat to mankind: the Nestene Consciousness - a disembodied alien intelligence with an affinity for plastic. The Doctor is forced to race against time in order to stop humanity from being replaced by a generation of terrifying plastic replicas.
The adventure - which originally aired in 1970 - was the first in the series to be made in colour and it saw the newly-regenerated Doctor, freshly exiled by the Time Lords, team up with new assistant Liz Shaw, played by
Caroline John
, and the British section of UNIT, headed by Brigadier Lethbridge-Stewart (
Nicholas Courtney
). Because of industrial action at BBC TV Centre, the story ended up being made entirely on location and on 16mm film - the only time this has ever been done on the show so far.
BBC America is paying tribute to the programme's 50th anniversary by showing a story per Doctor per month.
The Doctors Revisited: The Third Doctor (via
YouTube
)