Tuesday, 26 February 2013 - Reported by John Bowman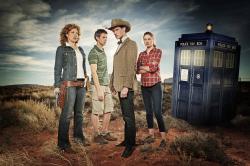 A special screening of the opening two episodes of Series 6 is to take place across Australia and New Zealand on
Thursday 14th March
, the BBC has announced.
In a world-first multiple cinema screening for Doctor Who,
The Impossible Astronaut
and
Day of the Moon
will be shown at selected Event Cinemas, Greater Union and Birch, Carroll & Coyle Cinemas, and Village Cinemas across the two countries, starting at
7pm
on the day.
There will also be a "best-dressed" prize at each cinema for the Doctor Who fan with the most impressive costume, from Time Lords to monsters.

Sharon Wilson
, BBC Worldwide Australasia's head of marketing for global brands, said:
We're building on the concept of "event television" by creating simultaneous Doctor Who experiences on big screens across Australia and New Zealand for the first time. It's an opportunity for fans to enjoy the programmes and participate in the whole experience in a way that they've not been able to before. We hope this will be the start of more BBC Worldwide cinema events with our partners Event Cinemas and Village Cinemas.
The screening has been arranged as part of the celebrations for the show's 50th-anniversary year.
Written by
Steven Moffat
and directed by
Toby Haynes
, the 90-minute two-parter stars
Matt Smith
as the Doctor,
Karen Gillan
as Amy Pond,
Arthur Darvill
as Rory Williams,
Alex Kingston
as River Song, and
Mark Sheppard
as Canton Everett Delaware III.
In
The Impossible Astronaut
, the Doctor, Amy, and Rory receive a secret summons that leads them to the Oval Office in 1969. Enlisting the help of a former FBI agent and the irrepressible River Song, the Doctor promises to assist President Nixon in saving a terrified little girl from a mysterious Space Man. In
Day of the Moon
, the Doctor is locked in the perfect prison, while Amy, Rory, and River Song are being hunted down by the FBI. But with the help of the president and Neil Armstrong, the Doctor is able to mount a rebellion against an alien invasion dating back to the very beginnings of human civilisation.
Tickets for the high-definition big-screen showings can be bought online at
Event Cinemas
or
Village Cinemas
(booking fees may apply) or at the box offices of the cinemas involved. The websites list the cinemas taking part in this special event.
UKTV, which is wholly owned by BBC Worldwide Australasia, is the media partner for this screening, which has been devised by BBC Worldwide Australasia.