The
Professional Publishers Association
are celebrating their centenary this year, and as part of this ten covers are to compete to become
Cover of the Century
, one of which is the
Radio Times
issue covering the week 30th April to May 6th May 2005 - otherwise known as
Vote Dalek!
The magazine is up against covers from the Beano, Cosmpolitan, Empire, Harpers, MacUser, NewScientist, Time Out, Vogue and Woman's Weekly, all of which were chosen by a panel of experts as being the most iconic over the century.
Head of the PPA,
Barry McIlheney said
Our centenary year provides us with a unique opportunity for the industry to celebrate not only the association but, more importantly, its members and the entire magazine publishing industry. The Cover of the Century is just one of the many activities the PPA will be carrying out in 2013 to mark this historic occasion.

We are looking forward to the next 100 years, and how the unique power of magazine brands will help shape the evolving media landscape at what is the most exciting time in our rich and vibrant history.

Voting is open daily to the public via the
PAA website
until the 30th September, with the winning cover announced on the Association's actual centenary on 21st November.
---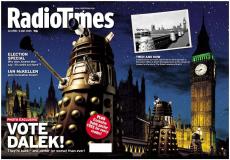 This isn't the first time the Radio Times cover has been up for an award - in 2008 it won the coveted title of
Best Magazine Cover Of All Time
in a poll that was also conducted by the PAA!
Circulation director at the time,
Nicola Rowe
said of its successback then:
We had many outstanding entries but Vote Dalek! captured the popular vote. It is sharply observed, funny, and to the point. It is, in its own way, a truly inspired reflection of the British sense of humour.