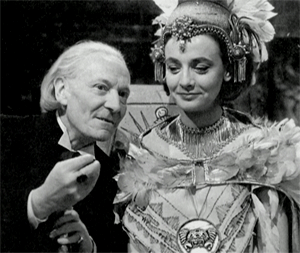 BBC America
is to celebrate the fiftieth anniversary of Doctor Who by showing one story from each of the first eleven Doctors, as part of a strand titled
Doctor Who: The Doctors Revisited
.
The channel will screen one story each month, starting with the 1964 story
The Aztecs
, starring the First Doctor,
William Hartnell
.
The story features the original TARDIS crew of the Doctor, his granddaughter Susan (played by
Carole Ann Ford
), and two of her teachers, Barbara Wright (played by
Jacqueline Hill
) and Ian Chesterton (played by
William Russell
).
The story sees the TARDIS land in 15th-century Mexico, where the crew get caught up in the local politics of blood sacrifice.
Originally shown over four weeks, the complete story will air on BBC America on Sunday, January 27 at 9pm ET.
The Doctors Revisited: The First Doctor (via
YouTube
)