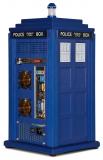 A PC system modelled on the TARDIS has been launched by a UK firm.
Bolton-based
Scan Computers
has been officially licensed by BBC Worldwide to produce the aluminium scale model, which has been finished in the Pantone blue of the Doctor's Ship.
It comprises 45 pieces of individually-cut brushed aluminium, all of them based on the prop model, and measures 205mm x 205mm x 430mm.
The basic tech spec includes the following:
Intel Pentium G2120 dual-core processor

8GB of Corsair Vengeance 1,600MHz DDR3 memory

500GB hard drive

Blu-ray reader

Microsoft Windows 7

The PC system, which has been developed with Dorset-based design house
Head Cases
, is also available to order with a variety of specifications.