Matt Smith
has revealed his keenness to appear in a play by the Bard.
"I definitely want to do Shakespeare. I don't know what role, though, and it wouldn't be just yet. I'm too busy at the moment, there's just not enough time,"
he said.
[Telegraph, 7 Oct 2012]
Superhero series
Arrow
is due to premiere tonight on
The CW
in the United States, and on
Sky 1
in the UK from
Monday 22nd October
.
As previously reported
,
John Barrowman
is to feature as a recurring character in the series, described only as "the well-dressed man". Lead actor
Stephen Amell
says:
"He's a very well-spoken, well-respected businessman in Starling City. I know I tweeted a couple of weeks ago that I was reading a script that was episode 7 and I read a scene and I audibly gasped and I went "[gasp] that's really cool!" It's from the beginning of episode 7, and it's a scene with John. He's a really fun guy to work with. He obviously is very comfortable and he made the crew and even me, when it was my coverage, crack up during a rehearsal and it took a while to get it back for the actual takes."
Actor
Colin Salmon
will also feature in another recurring role.
[KSiteTV, 4 Oct 2012]
Barrowman talks about his third Christmas pantomime in Glasgow alongside The Krankies -
Jack and the Beanstalk
at the Clyde Auditorium:
"There's a sense of humour up here that is unlike any other in the country and it's the same kind of sense of humour that the three of us have so it goes over very well. We can play right to the kids because they see Jack, Jimmy and their dad doing all this stuff but the adults know it's John, Ian and Janette who are having a bit of fun, so those jokes go to them and just go right over the kids' heads. I love coming up and doing panto in Glasgow at Christmas."
[Daily Record, 8 Oct 2012]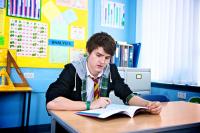 Tommy Knight
makes his debut in
Waterloo Road
tomorrow evening on BBC One. Talking about recognition, the
Sarah Jane Adventures
star said:
"Well, the attention side of acting isn't really my favourite thing, I'll be honest! I was out in Glasgow high street a few weeks ago and I was with Kaya Moore who plays Phoenix, and with the amount of attention he was getting, it must have taken us a couple of hours to get down the high street! I was standing there thinking, 'Oh my word', and I was a little bit worried about it. It's a bit intimidating as being on Waterloo Road will probably mean the most attention I've ever had. I think I'll be alright, I suppose I'll just have to see how I feel about it when it happens. When Sarah Jane was first out, I was recognised an awful lot. I used to pick up my little brother from his primary school every day and I remember when the show first aired, it got really hectic around the primary school. I was trying to find my little brother among all these kids going, 'Sign my contacts book!' and 'Sign my face!'"
[Digital Spy, 10 Oct 2012]
Caitlin Blackwood
- aka the young Amelia Pond - will be taking part in a question-and-answer session at
The Churchill
pub in
New York
on
Friday 12th October
. Book via event organiser
Who York
.
Referring to his
"music obsession"
,
Arthur Darvill
has a particular era he would have liked his character Rory to have visited:
"I'd have liked to travel back to the Sixties and do something with the Doctor there. Or go back to when I was an annoying child and reassure myself it's all going to be all right."
He also thinks that after Amy and Rory's departure from the series
"they have a very quiet life – which is quite sad after having such an adventurous time – but they're just happy to be together. Obviously it doesn't run smoothly as they're stuck back in quite a horrible place but they've got each other and that's all they really need."
[Radio Times, 8 Oct 20120]
Mark Gatiss
,
Daniel Mays
,
Tom Goodman-Hill
, and
Brigit Forsyth
will appear in the BBC Radio 4 series
Living With Mother
when it returns for a second series later this month. The individual comedies focus on mothers and adult sons living together. Gatiss will be in the first episode, when the series starts on
Wednesday 31st October
at 11.15pm, with Mays in the second one, Goodman-Hill in the third, and Forsyth in the fourth.
[Radio Times, 9 Oct 2012]
Katy Manning
will be appearing in
You're Only Young Twice
at
The Crewe Lyceum Theatre
from
Tuesday 30th October to Saturday 3rd November
. Also starring in the show are
John D Collins
and
Melvyn Hayes
(pictured right with Manning)
, the former husband of
Wendy Padbury
.
Paterson Joseph
has been talking of the thrill of being in the Series 1 episodes
Bad Wolf
and
The Parting of the Ways
. He said of the show:
"I did watch it when I was a kid. I can't actually say I was obsessed with it as some other people are, but I was very happy to be shown around the Tardis. It was then I suddenly thought, 'Wow this is really exciting'. I also got the chance to get killed by a Dalek and not many people can say that in their lives. I had a 6ft Dalek rolling towards me screaming, 'Exterminate'. It was truly frightening."
Joseph plays Brutus in
Julius Caesar
at the
New Theatre
in
Cardiff
from
Tuesday 23rd October to Saturday 27th October
.
[Wales Online, 7 Oct 2012]
Dark Horizons
author and Doctor Who fan
Jenny Colgan
has spoken of her excitement at writing the book.
"The thrill of typing 'The Doctor opened the door of the TARDIS' was huge,"
she said, adding that she approached the BBC to write a novel.
"A friend of mine called Naomi Alderman had written one for them [Borrowed Time] and that gave me the idea. I asked them nicely and they said, 'Oh well you can't put any kissing in it' and I promised faithfully that I wouldn't, and then I offered them three different ideas for stories and they chose one. It was enormous fun to do."
She also tells of the background work she did.
"I did a lot of research into Vikings because I wanted to write about the Lewis chess set, the set of figures that was found there that are about a thousand years old. Nobody knows how they ended up there, so I thought it would be an interesting mystery for the Doctor to solve. There are a couple of bits I really hope readers will enjoy: a scene set on a beach in the current day, and the Norse God that the Viking princess thinks the Doctor is."
[TV Book Club, 7 Oct 2012]
Frazer Hines
is taking his one-man show
The Time-Travelling Scot
to
Tasmania
. He will be in conversation at the
Wrest Point Entertainment Centre
in Sandy Bay, Hobart, on
Sunday 9th December
, telling behind-the-scenes stories about his time on Doctor Who.
Jean Marsh
reflects on her appearances in
Doctor Who
:
"I was in the very first series, I think (Season 2's The Crusade), which has probably been wiped. I can't remember what it was called, but I remember I played a Princess of France in the 10th century. That was just one episode. Then I came back as Sara Kingdom (The Daleks' Master Plan), sort of a space spy, fabulously ridiculous, wearing a catsuit of very tight, elastic brown tweed. Why one has to wear those sort of things… It was a bit like Joanna Lumley. It was just to show your body, I suppose. So I did eight episodes of that and turned from being a baddie into being a goodie. Then I was killed in a brilliant way. I was running — in my catsuit — away from someone who was trying to kill me, and he had an aging gun. And he hit me, and I started aging very quickly, and they had to keep switching my makeup, and then the last shot of me was of a very, very, very old woman. So that was terrific. Then the third one was Morgan le Fay with King Arthur (Battlefield). I loved doing that because they were beginning to take Doctor Who more seriously, and that was a bit more fun."
[A.V. Club, 5 Oct 2012]
BBC Two has commissioned the comedy-thriller
The Wrong Mans
from
James Corden
and Mathew Baynton. The six-parter centres on two lowly office workers - Phil (Corden) and Sam (Baynton) - who become caught up in a deadly criminal conspiracy after Sam discovers a ringing phone at the scene of a horrific car crash. Filming starts in January 2013.
[BBC Media Centre, 9 Oct 2012]
(with thanks to Paula Bentham)