Friday, 26 October 2012 - Reported by Chuck Foster
Current Filming
:
Filming commenced this week on episode 7 (
2013 #2
), written by
Neil Cross
and directed by
Farren Blackburn
, who
announced
on Sunday:
"Once more unto the breach! Start filming Neil Cross's latest Doctor Who ep tomorrow. Gonna be a ride!!!"
Filming is due to continue until the 6th November on the episode, which appears to be set in the early 1980s - though no guest stars have been announced for this episode so far. Filming kicked off in Newport on Monday, with eagle-eyed viewers possibly recognising the Gaer estate from
Torchwood: Children of Earth
back in 2009; another old haunt from previous stories was the nearby St. Woolos Cemetery, which was used on Tuesday. Blackburn commented:
"Several coffees a day keeps the Doctor at play. Boy you need energy to direct this show!!! « BTW the Doc is looking cooler than EVER!!! « When I say The Doc is looking cooler than EVER!! I mean what he's wearing!!! Just wait and see!!! «"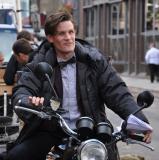 The bulk of episode six (
2012 #1
) by
Steven Moffat
has been completed, with a high-profile shoot in London taking place last week incorporating motorcycle antics on the South Bank and around Westminster streets, plus scenes in the shadow of the Shard near to London Bridge. Some pickups also took place on Wednesday back in Cardiff, with director
Colm McCarthy
wryly
commenting
:
"Five cameras on a corner of a street in Cardiff shooting Dr Who for an hour. Nobody has noticed yet. Too late Whovians! We're out of here."
Thursday evening saw filming by Barry Pump House with director
Saul Metzstein
present - this seems likely to have been pickups for the
Mark Gatiss
story (
2013 #6
) that stars
Dame Diana Rigg
and
Rachael Stirling
- though the scene in question features another character, familiar to regular viewers... Main filming back at the BBC Studios during the day was briefly interrupted to celebrate
Matt Smith
's birthday (he'll be 30 on Sunday) - the cake surprise is available to watch via the BBC's
Doctor Who website
.
Neil Gaiman
's script (2012 #7) has its readthrough next week, with the writer saying:
"in case you are wondering: I'm really a bit nervous: the table read of my episode of Doctor Who is next week. Think good thoughts at us. I'll try and post some photographs afterwards. Oh, and for the curious, the episode will be called ███ ████ ████████ . Only with letters instead of Ascii Blocks. Unless we change the title again before it's broadcast. Which might well happen, actually. I mean, it was originally called █ █████████ ██ ██████."
[Neil Gaiman's Journal, 25 Oct 2012]
Ashley Walters
(who guest-stars in the fifth episode next year) spoke about his co-stars from his recent stint filming for the series:
"You can't beat being in Doctor Who - it's something I've grown up with my whole life and working with Matt Smith was amazing. He's a really, really good actor and just being a part of that huge BBC franchise was an incredible thing. And Jenna Louise Coleman is really good at what she does - it seems like she's enjoying her job and I loved working with her."
[Radio Times, 22 Oct 2012]
The Radio Times also reports that the fifth episode is intriguingly entitled
Journey To The Centre Of The TARDIS
- however, episode titles won't be finalised until closer to transmission (for example this year's
The Power of Three
was originally entitled
Cubed
).
London MCM Expo: Q&A
:
Matt Smith
and
Caroline Skinner
participated in a Q&A at the
London MCM Expo
taking place at the Excel Centre in order to promote
The Series 7 Part 1
boxed set, and answered a variety of questions about the series both shown and still to be broadcast. The session was streamed live, and will be made available to watch on
YouTube
next week.
Into the Future: re-occuring roles
:
Steven Moffat
has re-iterated that Amy won't be back for the 50th Anniversary, in spite of recent media speculation:
"Amy and Rory won't be back. At the very beginning, when I was talking to Karen, I said, 'Let's make it a proper ending'. Heaven knows if they will appear in some flashback – I have no plans – but the story of Amy and Rory is over."
[Mirror, The Sun, 15 Oct 2012]
If he were to return,
John Simm
would like to take the Master in a different direction:
"I'd love to have another take on him, to be a bit quieter. Russell T Davies had a specific idea of what he wanted him to be like. So I just had to do exactly what he wanted me to, and he wanted a giggling lunatic. There's a new writer now, and I'm sure his take on him would be different so I'd be interested to have a look at it. I'd like to take the Master to a very, very dark place."
[Radio Times, 23 Oct 2012]
Matt Smith confirmed at the MCM Expo in answer to a question that he'd expect that - should the Master ever return - he'd expect it to be played by John Simm! Both he and Caroline Skinner indicated that
Alex Kingston
would also be back as River Song (though not exactly when!).
Former
Doctor Who
lead writer
Russell T Davies
wants to be surprised by next year:
"I think I'd be like the ghost at the feast, what would I do – turn up and make the tea? I have asked current boss Steven Moffat not to tell me what they are planning."
[What's on TV, 24 Oct 2012]
Into the Future: alternative Doctors?

Actor
Stephen Mangan
wants to add his name to the list of Doctors:
"I'd love to be Doctor Who – who wouldn't, it's a great part, it's very exciting, I think the Doctor Whos we've had recently have been phenomenal and I'm glad I wasn't the one who had to follow David Tennant because he was extraordinary."
[Radio Times, 12 Oct 2012]
Comedian
Russ Noble
wouldn't ignore it either:
"I think anyone would cancel anything to be [The Doctor]! The weird thing about Doctor Who is, I think there isn't a human being on the planet who would say no to Doctor Who. But the only downside of that is you'd have to live in Cardiff!"
[Den of Geek, 22 Oct 2012]
Into the Future: location, location location!

After the more 'exotic' locations visited for the first part of the series,
Caroline Fisher
said that they sadly weren't travelling that far from Cardiff Bay for the current batch of stories being recorded. However, when asked by the audience the the London MCM Expo about the possibility of filming in places like Louisiana in the United States, or in Australia (as championed by MP
George Christensen
) she didn't rule either out in the future.
Having recently stirred the hornet's nest over Australian filming himself,
Matt Smith
throws a few more locations into the mix:
"I also think you could make quite a fun episode in Iceland or South America, or you could go to Peru. I'd like to film something in those places. The Pyramids would be fun, too, but I'd rather go to Peru."
[BANG Showbiz, 18 Oct 2012]