Tuesday, 30 October 2012 - Reported by John Bowman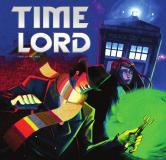 An improvised show inspired by Doctor Who is taking to the stage in Melbourne from tomorrow for a seven-date weekly run.
Time Lord
is being put on by The Impro Box and will be performed by
Rob Lloyd
with members of the improvisational troupe. Made up on the spot, it will centre on a fan presenting an audience-suggested adventure about the Doctor.
The show will be at
Club Voltaire
in Raglan Street every Wednesday at 7.30pm from
31st October to 12th December
. Tickets can be booked via
The Impro Box
.
Lloyd previously performed the one-man Doctor Who-themed comedy show
Who, Me
at the Melbourne and Adelaide Fringe Festivals, Armageddon Expo 2011, and the Melbourne International Comedy Festival.