Thursday, 18 October 2012 - Reported by Chuck Foster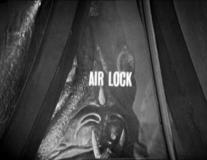 As reported by
Dan Hall
at
Recon
last month, the new issue of
Doctor Who Magazine
has a summary of the DVDs scheduled for the beginning of 2013, which includes the announcement that the recently recovered and restored third episode of the
William Hartnell
story
Galaxy 4
,
Air Lock
, will be released as a bonus episode on the special edition version of Season 1 story
The Aztecs
.
Other releases lined up for the first quarter include the
previously reported
Legacy Box
on
7th January
, the animation-enhanced
The Reign of Terror
on
28th January
, a special edition version of
The Ark in Space
on
18th February
, and the above-mentioned special edition of
The Aztecs
on
11th March
. No features for the DVDs have been announced at present.
In addition, the last 'intact' story of the range,
Terror of the Zygons
has been announced for
June
(
The Mind of Evil
undergoing colour restoration) - features for the final
Tom Baker
release were unexpectedly revealed by the
BBFC
back in July
.
Finally, DWM also revealed that
Jon Pertwee
's inaugural story
Spearhead from Space
is to be released yet again in June, this time taking advantage of the 'classic' series story's unique film recording to produce a high-definition Blu-ray presentation. Features on this release will include an extensive biography on Pertwee and an obituary for his co-star
Caroline John
, who
died
earlier this year.
Future History ...

Since our
summer update
the list of currently unannounced titles has diminished rapidly, with only fourteen episodes remaining to see the DVD treatment:
In addition, several special edition versions of previously released stories are expected during the course of the year, including
Inferno
.