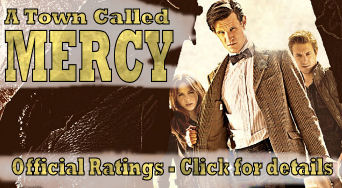 Final ratings data for the week ending 16th September 2012 released by the Broadcasters' Audience Research Board or
BARB
, puts Doctor Who as the
ninth
most-watched programme of the week on British television.
With 8.42 million viewers,
A Town Called Mercy
was the second highest rated programme on BBC Television for the week with only series premiere of the dance series
Strictly Come Dancing
out-rating it. Doctor Who beat every edition of the soap EastEnders.
The situation when ITV1 figures are added is complicated. When the raw figures for each channel are studied then Doctor Who appears to be 7th in the list of top programmes. However ITV1 HD needs to be added into the mix as the figures are calculated separately for the HD version for the independent channel, but added into the reported figures for BBC One. The BBC also includes ITV+1 when comparing their programmes with the opposition, as watching on ITV+1 is considered the same as recording a programme on the main channel and watching it later.
When these extra figures are added in, Doctor Who come in as the
9th
most watched programme of the week, meaning all three episodes of this series have earned top ten places.
The final ratings figure does not include the BBC Three repeat, where around 500,000 watched. Nor do they not include those watching on iPlayer where around 900,000 people accessed the episode in the first four days.