Monday, 27 August 2012 - Reported by Chuck Foster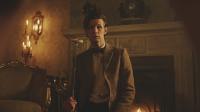 The first part of the
Doctor Who
mini-adventure,
Pond Life
, has now been released by the BBC. Each of the five parts will be shown online over the next few days, leading into the the broadcast of
Asylum of the Daleks
on Saturday.
Part One: April: whilst the Ponds enjoy life at home, the Doctor has been having some unplanned adventures...

Further details are available from the
Pond Life
page on the BBC website.