Thursday, 30 August 2012 - Reported by Harry Ward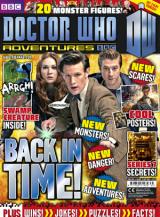 This week's
Doctor Who Adventures
magazine comes with a pack of 20 mini monster figures!
Also in this issue:
Dalek madness - A sneaky peek at the Asylum of the Daleks!
Eleventh Doctor's Dalek encounters!
Monster army attack board game which you can play with your cool monster army gift!
Interview – we talk to Karen Gillan and Arthur Darvill about their top TARDIS times as the Doctor's companions, Amy and Rory!
Mega moments! - Tell us about your best bits from Saturday's brand-new ep. Email us your mega moment to dwa@bbc.co.uk and include your name and age. The best ones will feature in the mag!
Plus the usual comic strip adventures, exclusive posters, puzzles, facts and jokes.
Issue 284 of Doctor Who Adventures is out in the UK now.