Wednesday, 25 July 2012 - Reported by Marcus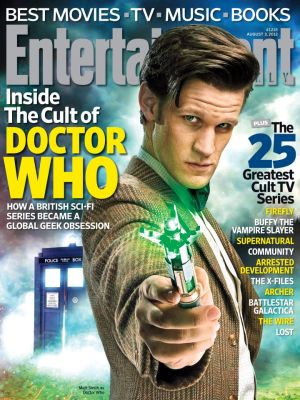 Doctor Who has been granted the accolade of being the cover story of the US media magazine
Entertainment Weekly
.
The title, which has been running since 1990, is one of America's most popular entertainment magazines, with a circulation of 1.8 million and an estimated readership of 8.2 million. To make the cover is regarded as a major achievement, an honour unprecedented for a UK-made series, and something
BBC America
has been celebrating on its Facebook site.
Inside, it asks whether the time has finally come for the Time Lord to break big in America, and describes the upcoming season as maybe the most eagerly anticipated ever, as the Doctor prepares to say goodbye to his two trusty companions Amy Pond and Rory Williams.
The publication notes the number of on-screen shout-outs the show gets from programmes such as
Community
,
Criminal Minds
,
Craig Ferguson's The Late Late Show
,
Supernatural
, and
Grey's Anatomy
. Executive producer
Steven Moffat
tells the magazine:
It's not an obscure show anymore. It's not even a 'British import'. It's just Doctor Who.
The cover story tracks the ups and downs of the show's long history and previews the new episodes with help from
Matt Smith
,
Karen Gillan
and
Arthur Darvill
as well as Moffat.
Entertainment Weekly also checks out the 25 Best Cult TV Shows From the Past 25 years.