The Weeping Angels
have been voted the fans' favourite ever monsters in a poll of over 10,000 Doctor Who fans.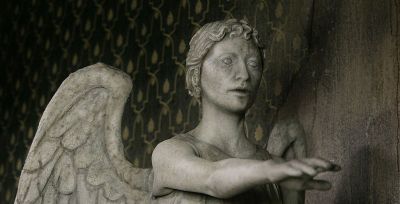 The Weeping Angels (49.4%)
The Daleks (17%)
The Silence (11.84%)
The Master (8.66%)
The Vashta Nerada (6.81%)
The Cybermen (2.53%)
Davros (2.2%)
The Zygons (0.69%)
The Ice Warriors (0.54%)
The Sontarans (0.33%)
The
Radio Times
survey saw the scary statues gain nearly 50 per cent of the vote, making them the best loved (or feared) monsters in the Doctor Who universe.
The Angels were created by current Doctor Who showrunner
Steven Moffat
, and first appeared in 2007 episode
Blink
, first broadcast five years ago today. The Angels are living statues, unable to move as long as they are being watched. But close your eyes or look away and they're instantly on the move, stone fangs and claws bared.
The Angels pushed the Doctor's most iconic enemy, the
Daleks
, into second place with 17 per cent of the vote. The Doctor first encountered the Daleks in the second ever Doctor Who story, screened in 1963.
Another Moffat creation,
The Silence
, crept into third place with almost 12 per cent, while the Doctor's fellow Time Lord,
The Master
, and Moffat's microscopic swarm
The Vashta Nerada
, were in fourth and fifth place, respectively.
The
Cybermen
,
Davros
, the
Zygons
, the
Ice Warriors
and the
Sontarans
completed the top ten.
RadioTimes.com editor
Tim Glanfield
commented on the results: "The Daleks had generations of children cowering behind the sofa in the past, but our poll shows Steven Moffat's terrifying Weeping Angels are the stuff of modern nightmares – remember, don't blink!."