Friday, 27 April 2012 - Reported by Marcus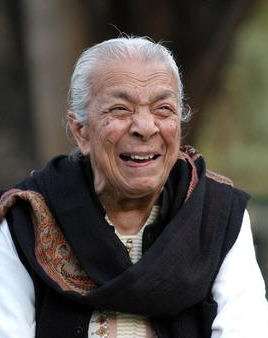 The actress
Zohra Sehgal
today celebrates her 100th Birthday and becomes the first actor to appear on Doctor Who to become a Centenarian.
Zohra Sehgal appeared alongside first Doctor William Hartnell in two stories. She played Sheyrah in the second episode of the 1965 story
The Crusade
. She also had a small role playing an attendant in three episodes of the 1964 story
Marco Polo
.
Zohra Sehgal was born in 1912, in Saharanpur in the state of Uttar Pradesh, India, the third of seven children. After attending Queen Mary's Girls College in Lahore she decided to pursue a career as a performer. Her uncle arranged for her to apprentice under a British actor, which involved driving from Lahore to Europe. She became the first Indian to study at Mary Wigman's ballet school in Dresden, Germany studying modern dance. While there she saw the touring production of Shiv-Parvati ballet by Uday Shankar, who promised her a job on her return to India, something she took up in 1935.
In 1942 she married and worked extensively as an actor and dancer in Lahore and Bombay, where she also became involved in Bollywood. She made her film debut in
Dharti Ke Lal
in 1946, followed by Chetan Anand's
Neecha Nagar
, which became the first Indian film to gain critical international recognition and which won the Palme d'Or at the Cannes Film Festival.
After her husband's death in 1959, Zohra Sehgal first moved to Delhi and became director of the newly founded Natya Academy before moving to London on a drama scholarship in 1962. Her first role for British television was in a BBC adaptation of a Kipling story,
The Rescue of Pluffles
. She anchored 26 episodes of BBC TV series,
Padosi (Neighbours)
, made in 1976–77. She was signed by Merchant Ivory Productions appeareing in
The Courtesans of Bombay
directed by James Ivory in 1982. This paved the way for the role of Lady Chatterjee in the television adaptation
The Jewel in the Crown
in 1984. She went on to appear in
Tandoori Nights
,
My Beautiful Laundrette
,
Bhaji on the Beach
,
The Mystic Masseur
,
Bend It Like Beckham
,
Cheeni Kum
and others.
She was awarded the Padma Shri in 1998, Kalidas Samman in 2001, and in 2004, the Sangeet Natak Akademi, India's National Academy for Music, Dance and Drama, presented her with its highest award, the Sangeet Natak Akademi Fellowship for lifetime achievement. In 2008, she was named the 'Laadli of the Century' by the United Nations Population Fund and she received the Padma Vibhushan, India's second-highest civilian honor, in 2010.
She returned to India in the mid-1990s where she has acted in several films, plays and TV series. She now lives in Delhi with her daughter, where she plans to celebrate her birthday with family and a few close friends from the artistic fraternity.