Friday, 3 February 2012 - Reported by Marcus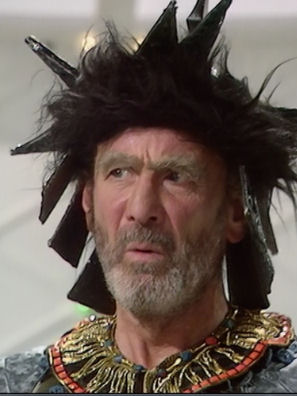 The actor
Frederick Treves
has died at the age of 86.
Frederick Treves
appeared in four episodes of Doctor Who, playing Lieutenant Brotadac in the 1980 Tom Baker story
Meglos
. Brotadac was second in command to Gaztak mercenary General Grugger, played by Bill Fraser.
Born in 1925, Treves served in the Merchant Navy in World War II where he was caught up in the Operation Pedestal Convoy to Malta. When his ship was sunk in 1942 he helped save several of his shipmates, actions which saw him receive the British Empire Medal and the Lloyd's War Medal.
After the war he trained at RADA before embarking on a career which saw him appear in some of the best-loved dramas in British television. His 100-plus television credits included roles in
The Cazalets
,
The Jewel in the Crown
,
A Dance to the Music of Time
,
The Politician's Wife
,
To Play the King
,
Lipstick on Your Collar
,
Bomber Harris
,
Yes, Prime Minister
,
Bergerac
,
Midsomer Murders
,
Follyfoot
,
Miss Marple
,
Minder
,
Z-Cars
,
The Avengers
,
Doomwatch
and
The Railway Children
.
His films included:
Paper Mask
,
Defence of the Realm
,
Sunshine
,
Mad Dogs and Englishmen
,
Afraid of the Dark
,
A Flame to the Phoenix
,
Nighthawks
,
The Elephant Man
and
Sweeney 2
.
His last screen appearance was as Professor Mullins in a 2003 edition of
Rosemary & Thyme
.
Treves is survived by his wife, Jean, along with two sons, Simon (who followed him into acting) and Patrick; a daughter, Jeni; and 11 grandchildren.
Frederick William Treves, actor and writer, born 29 March 1925; died 30 January 2012