Tuesday, 24 January 2012 - Reported by Chuck Foster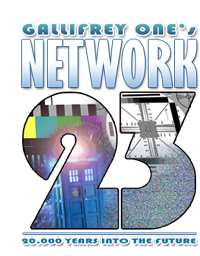 Gallifrey One's Network 23
, the twenty-third annual North American Doctor Who Celebration convention, will take place
February 17-19, 2012
at the Marriott Hotel at Los Angeles Airport.
Featured guests from the Whoniverse at this year's annual installment of the long-running fan convention -- blending both classic and new series guests -- are
Paul McGann
(the eighth Doctor),
Camille Coduri
(Jackie Tyler),
Mark Sheppard
(Canton Everett Delaware III),
William Russell
(Ian Chesterton),
Louise Jameson
(Leela),
Caitlin Blackwood
(Young Amelia Pond),
Maureen O'Brien
(Vicki),
Richard Franklin
(Captain Mike Yates),
Tony Curran
(Vincent van Gogh),
Eric Roberts
(the TV Movie Master),
Daphne Ashbrook
(Grace Holloway),
Yee Jee Tso
(Chang Lee),
Simon Fisher-Becker
(Dorium Maldovar),
Philip Segal
(TV Movie Producer),
John de Lancie
(Torchwood's Agent Shapiro),
Toby Haynes
(director of five Series 5-6 episodes),
Richard Senior
(director of "Let's Kill Hitler"),
Nicholas Briggs
(the voice of the Daleks),
W. Morgan Sheppard
(Old Canton),
Daniele Favilli
(Torchwood's Angelo Colasanto),
Waris Hussein
(director of "An Unearthly Child"),
Barnaby Edwards
(new series Dalek operator),
Michael Troughton
(author & son of Patrick Troughton),
Gary Russell
(Sarah Jane Adventures script editor),
Phil Ford
(Sarah Jane producer),
Simon Guerrier
(Graceless),
Richard Dinnick
(The Big Finish Companion),
Jason Haigh-Ellery
(Big Finish Productions), "Torchwood" writers
Jane Espenson, Doris Egan
and
John Shiban
, IDW Doctor Who comics editor
Denton Tipton
, writer
Joshua Hale Fialkov
, colorist
Charlie Kirchoff
and illustrators
Matthew Dow Smith & Blair Shedd
, comedian
Charlie Ross
(who brings his famous UK Doctor Who themed comedy show to America for the first time), and many other guests from the science fiction media, comics and literary community.
Gallifrey One is the world's longest-running annual
Doctor Who
convention, with three days of events including a weekend-long tribute to actors Nicholas Courtney and Elisabeth Sladen; a live Friday night performance of Louise Jameson's one-woman stage show
Pulling Faces
; a full Saturday masquerade/costume show and performance of Charlie Ross's legendary
Doctor Who
comedy show; previews from Big Finish Productions, IDW Comics, the Doctor Who Restoration Team and Hirst Publishing; a dealers room, art show, an annual charity benefit auction this year benefitting
Students Run L.A.
, cosplay program and costuming hall, an exhibits area this year featuring the fully restored 1996 TV Movie TARDIS console, science programming, the North American debut of the Guerrier Brothers' short film
Cleaning Up
starring Jameson and Mark Gatiss, Q&A sessions, interviews, autographs and much more.
Online convention pre-registration closes on January 31 (with at-door registration open as the convention begins). For more information visit
www.gallifreyone.com/
or check out the Facebook page at
facebook.com/gallifreyone