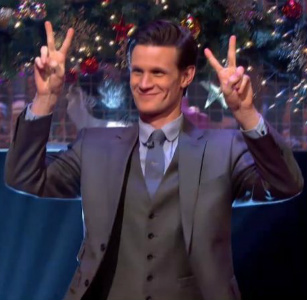 Matt Smith
appeared on
The Graham Norton Show
tonight, during which he chatted about his Christmas plans, his brushes with fandom, and of course about a certain show he's become associated with that airs on Christmas Day!
When asked about the recent announcment regarding Karen Gillan's
departure from the show
, he said:
I've known a while, actually, because we've known for a couple of months. It's by mutual consent - I think really those stories just come to a point where it reaches its conclusion, and the very essence of the show is that it constantly re-invents itself.
(on whether he'd go at the same time)
I'm very happy to stay, I love it, I love making the show, but I'll miss Karen because she's a good mate, one of my best mates. She's a cracker - mad as a box of cats - but she's a firecracker, she really is.
Talking about fandom, both he and fellow guest
Gillian Anderson
discussed attending Comic-Cons, with Matt mentioning how he met up with all the other 'Doctors', and when he and co-star Karen Gillan met 'themselves':
Matt Smith and Gillian Anderson discuss Comic-Con, BBC, via the YouTube (may not play outside United Kingdom)
The
full show
can be watched in the UK via the
BBC iPlayer
until the 30th December.
---
Karen Gillan
will be a guest on
The Graham Norton Show
on the
6th January 2012
.