Collinson PLC
has been awarded the contract to build the new home for the
Doctor Who Experience
in Cardiff Bay.
Collinson will design and construct the 3000m³ tensile membrane building to form an iconic space-age shape containing the main exhibition hall and first floor mezzanine, and will also incorporate a glazed curtain wall to lend a futuristic feel to the project. Additional two storey accomodation will hold a reception area, café and classroom, plus office facilities.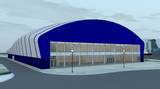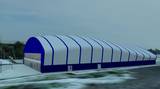 Artistic Impression
Photos:
Collinson PLC
Director
Dan Collinson
said:
We are thrilled to be working with Cardiff City Council and the BBC on the Dr Who project. To be part of creating something imaginitive and extraordinary is always exciting for us. We're confident the finished result will not only impress visitors to the exhibition, but we hope it will inspire people think creatively when it comes to the materials and design that can be utilised in constructing public buildings

The construction is in in conjunction with the BBC and Cardiff City Council, whose leader
Rodney Berman
said:
This attraction is set to bring millions of pounds into the city's economy, and the benefits to Cardiff will be immense in terms of tourism.
(newslinks: Collinson, Garstang Courier)