Tom Baker
Tom Baker
appeared at the launch of
Elisabeth Sladen
's autobiography which took place on Saturday at the
Doctor Who Experience
in London. Baker said that meeting Sladen changed the direction of his life as it made him so happy in the role of The Doctor that her realised he could play the character for the rest of his life and didn't need to act any more. He spoke of how they adored each other and how he fondly remembered standing arm in arm with her inside the TARDIS, giggling while they waited for their cue.
Baker was joined at the launch by former Script Editor
Terrance Dicks
and by Sladen's daughter
Sadie Miller
. Dicks remembered Sladen's qualities of self possession, dignity and independence, qualities he drew on when writing scripts for the character of Sarah Jane, while Miller said the family were keen to have the autobiography published as a thank you to the fans of Elisabeth.
Colin Baker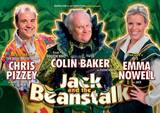 Colin Baker
is looking forward to being back in panto next month:
"I absolutely love playing the bad guy - and they don't get much worse than Fleshcreep. I feel as though if there's one child in the audience crying, I'm doing ok. If they are all crying - perhaps I've gone too far!"
. He'll be appearing in
Jack and the Beanstalk
in the Mansfield's Palace Theatre.
[Mansfield Chad, 26 Nov 2011]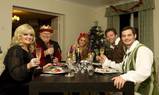 Channel 4 have released a publicity photograph for Colin's forthcoming appearance in
Celebrity Come Dine With Me
that will be broadcast over Christmas, alongside other celebrities Linda Nolan, Bianca Gascoigne, Nick Bateman and Danny Young.
Paul McGann
Paul McGann explores the rumour that Adolf Hitler spent time in Liverpool before the First World War in an item to feature on the BBC's regional programme
Inside Out (North West)
on Monday 28th November, 7:30pm.
Paul talks to author
Mike Unger
, who has written the book
The Hitlers of Liverpool
based on the memoirs of Hitler's sister-in-law wherein it is reported that the future German leader fled to England to avoid national service in Austria, staying with his half brother and her in late 1912.
The programme will be available to viewers in the UK on the
BBC iPlayer
after broadcast for seven days.
Christopher Eccleston
Christopher Eccleston is starring as Pod in
The Borrowers
this coming Christmas, and talks about taking on the role: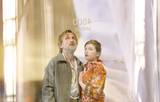 As the book was such an important part of my childhood, I was very familiar with the character of Pod. Ian Holm, who I've worked with, is one of my heroes, as is Jim Broadbent – both fantastic actors, so it was nice to think that I'd play a role that those two great actors have played. I also thought it was interesting, because I'm obviously a very different type to Jim and Ian and I like the fact that Pod can adapt like that. Pod borrows his clothes from an action figure of the 80s, perhaps loosely based on a character from Raiders Of The Lost Ark. I think that appeals to Pod's image… he's quite an adrenaline junkie, he likes risk and adventure. Pod is also a lovely dad, and a hero. I've played lots of troubled men and 'anti-heroes', but Pod's a straight hero. There's a great sense of humour to him, and a gentleness. That's what attracted me to the role.
You can read more of
Chris's interview
and about
the programme
via the BBC's Media Centre.
Chris's current project is a new thriller for the BBC,
The Fuse
, which started filming this month.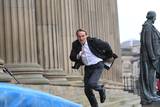 Dervla Kirwan (Injustice, The Silence) and Ewen Bremner (Page Eight, Perfect Sense) join Christopher Eccleston in this original four-part drama for BBC One, written by Bill Gallagher (Lark Rise To Candleford, The Prisoner) and produced by Red Production Company (Exile, Single Father).
The Fuse follows Daniel Demoys (Eccleston), a stranger in his own life. Over the years he has gone from being an idealistic young man with a burning desire to make the world a better place, to a disillusioned and corrupt council official. His alcoholism has driven a wedge between him and wife, Alex (Kirwan), and their three children. The fallout from his alcohol-fuelled actions prove agonising for all around him.
Christopher Eccleston says:
"Bill Gallagher has written a fantastic four episode drama about obsession, addiction and redemption. I'm very excited about the role of Daniel Demoys and to be working with Red Production Company and BBC One"
.
You can read more about
The Fuse
via the BBC's Media Centre.
Matt Smith
The
BBC
have released some more information on Matt Smith's project
Bert and Dickie
, which he filmed over the summer.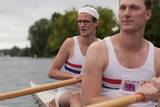 Written by William Ivory and starring Matt Smith, Bert And Dickie is the uplifting story of how two young men defied all the odds and achieved gold in the double sculls.
Thrown together just five weeks before the final of the 1948 London Olympics, Bert Bushnell and Dickie Burnell not only pushed physical and emotional limits, but also rose above distinctions of birth and class to become Olympic gold medallists.
Bert and Dickie's personal battle reflects a much greater struggle as London prepares to host the Olympic Games. In 1948, just three years after the end of the Second World War, London is half-destroyed. But, determined not to "let the Games die", the British Olympic Committee convinces Prime Minister Attlee that the Olympics could help bring the country back together – and the Austerity Olympics are born.
While London again prepares to host the 2012 Olympics in a difficult economic climate, this film will remind viewers what the Games are really about – heroic personal endeavour, courage, determination… and a little bit of luck!
Matt Smith is Bert Bushnell, Sam Hoare is Dickie Burnell, James Frain is Jack Beresford, Douglas Hodge is John Bushnell and Geoffrey Palmer is Charles Burnell.
The film will form part of the BBC's
Cultural Olympiad 2012
.
The Three Doctors
Steven Moffat
celebrated his birthday in style with a party last Saturday (19th November) that saw
three
Doctors alongside the show's lead writer! Speaking on Monday's
BBC Breakfast
,
Matt Smith
said:
I saw David
(Tennant)
on Saturday; it was Steven Moffat's birthday party. I was like, "It's Doctor Who!" I saw Peter Davison as well who was at the same party. Steven was very excited that there was more than one Doctor there, and I can't help but go "Oh my God. It's Doctor Who!"
But then I realise
I'm
the Doctor!