Monday, 14 November 2011 - Reported by Chuck Foster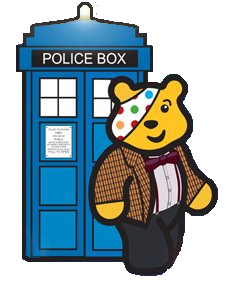 The
BBC
have intimated via their
Doctor Who Twitter
feed that a mini-episode has been written to star Matt Smith as the Doctor for this coming Friday's
Children in Need
:
14:44 There's an extra special treat for Doctor Who fans on Friday's
      Children in Need... Or at least there will be if things
      go according to plan!
15:25 Hurray! Things ARE going according to plan! Steven Moffat's
      mini-script has just hit the in-boxes of a lucky few...
      Must look over shoulders…
16:44 Great! We can confirm that Matt Smith will be back in
      the bow-tie soon because the Doctor returns on Friday night
      in Children in Need.
17:59 We've seen the short script and it is NOT what you'd expect.
      Oh, it's funny and fast and Doctorish and brilliant...
      but not what you'd expect...

A preview of this year's Christmas Special is due to be transmitted between 8:00-8:30pm on Friday evening.