Monday, 31 October 2011 - Reported by Chuck Foster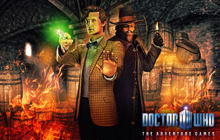 The
BBC
have now released their new
Adventure Game
,
The Gunpowder Plot
:
The TARDIS lands in London, 1605, encountering a group of men who are plotting to assassinate the Head of State. The Doctor, Amy and Rory realise they are at a pivotal point in time but so are two alien races, each of which are more than happy to change history to suit their own ends...

The game was written by
Phil Ford
and produced by
Gary Russell
, and is available to
download for free
in the United Kingdom.