Friday, 16 September 2011 - Reported by Marcus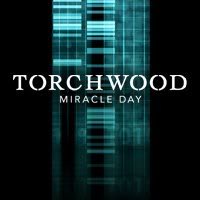 The final episode of Torchwood: Miracle Day,
The Blood Line
achieved an average audience of
3.9 million
viewers on BBC One and BBC One HD, according to unofficial overnight figures.
The episode had
17.1%
of the audience share and was the
9th
most watched programme of the day.
The programme faced strong opposition from
Billy Connolly's Route 66
, which had 5.4 million watching and which won the timeslot.
Final ratings, which include those who record the programme and watch it within seven days,will be released next week.
---
The broadcast of the episode on
Starz
on 9th September achieved a total of
950,000
viewers over its premiere evening, with 640,000 watching at 10:00pm and 310,000 for the 11:00pm repeat.
With the figures of the finale in the United States now in, here is a round-up of how
Miracle Day
has fared over its ten week run thus far:
 

                        Starz Premiere     UK Overnight     UK Final BARB
The New World             1.506m *             4.8m             6.59m
Rendition                 1.4m  **             4.4m             5.75m
Dead of Night             1.018m               4.2m             5.49m
Escape to L.A.            0.935m               4.0m             5.19m
The Categories of Life    1.024m               4.1m             5.17m
The Middle Men            0.804m               3.4m             4.60m
Immortal Sins             0.917m               3.4m             4.48m
End of the Road           1.172m               3.5m             4.64m
The Gathering             1.024m               3.5m          (due 19 Sep)
The Blood Line            0.950m               3.9m          (due 26 Sep)

*  - Starz reported 2.7m viewers for the full week/Live+3 DVR data
** - This is a weekend figure, with 609,000 viewers for the 10:00pm broadcast