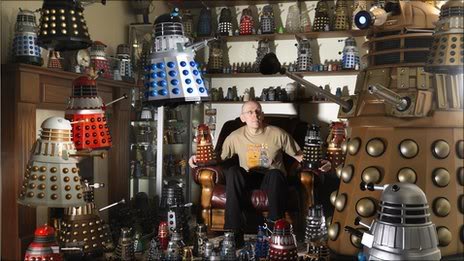 The 2012 Guinness World Records features the man with the largest collection of Daleks in the world.
Rob Hull
, a 49 year old from Doncaster in South Yorkshire, is recognised for having the largest collection of the deadly assassins from Skaro, with a total of 571 models, collected over 20 years.
The collection contains Daleks large and small including a 1.8 metre (6ft) lifesize replica model. He brought his first Dalek at 29 and has been collecting them ever since, despite not being a fan of Doctor Who.
Hull's wife Dawn is not celebrating the record.
I hate the bloody things and I've got a feeling this is only going to encourage him.
Doctor Who, is already the holder of two Guinness World Records, having been named the
Worlds Most successful sci-fi series
in 2009 as well as being the
Longest running sci-fi
series. Last year Doctor Who Magazine was named as the world's
Longest Running Magazine Based on a Television Series
.
Meet The Record Breakers: Rob Hull - owner of the largest collection of Daleks, Guinness World Records, via YouTube