Wednesday, 14 September 2011 - Reported by Chuck Foster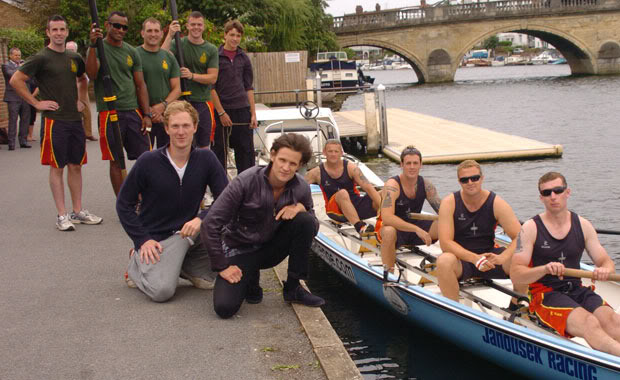 Matt Smith
met up with wounded Royal Marine rowers on the 13th July when they were engaged in the
Thames Challenge
. The crew were greeted by the actor at the Leander Club at Henley, being there himself for the BBC film
Bert and Dickie
, the story of the 1948 London Olympic win by the duo.
[Thames Challenge, 13th Jul; This is the West County, 12th Sep]
Arthur Darvill
fulfilled a lifelong ambition to dive with sharks, as seen in
Doctor Who Confidential
last Saturday:
"Something that has both excited and terrified me is the idea of swimming with sharks. I just think they are such fascinating and amazing creatures. I've been snorkelling a few times but to be able to swim with them in a controlled environment is just awesome. It was like something from James Bond, just stepping into this giant pool with massive sharks. I was fairly nervous but also really excited."
[Chester Chronicle, 12th Sep]
David Tennant
will be one of the hosts for Children in Need's Manchester Rocks concert, taking place at the MEN Arena on 17th November. Acts include Coldplay, Elbow, JLS, Lady Gaga and Hugh Laurie. Tickets will go on sale on Friday, proceeds in support of the charity.
[BBC Press, 14th Sep]
Speaking at the launch of his Christmas pantomime (
Robinson Crusoe And The Caribbean Pirates
),
John Barrowman
commented on future Doctor casting:
"I think a female doctor might work, you never know. The audience might not like that. I know there's a lot of young girls and women who would love that. I think that maybe they should go out on a limb next time and try it. That always stirs things up a little bit and makes things exciting and it's nice to see different things and challenges happen like that. Listen, if Captain Jack can be an omni-sexual time agent and an assistant to the doctor, why can't we have a female doctor?"
[Press Association, 13th Sep]Sherlock
star
Benedict Cumberbatch
commented about rumours of him becoming the Doctor on the
Jonathan Ross Show
:
"The rumours started because David Tennant is a friend of mine and he said 'going up for my old job?', and I said 'I don't think I am'. They're huge shoes to fill. One of the reasons is the Doctor Who job is so hard, because you are on the flask, you are on the school lunch box, you have to sometimes go on the school bus as Doctor Who on promotional tours. I like to keep the work on the set."
[The Jonathan Ross Show, ITV1, 10th Sep]