Wednesday, 7 September 2011 - Reported by Marcus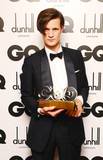 Matt Smith
has won the
Most Stylish Man award
at the 2011 GQ Men of the Year awards.
The citation reads
In addition to revitalising the Doctor (and sales of tweed jackets, while he's at it), Smith earned acclaim for his portrayal of Christopher Isherwood – all while dressing to perfection on and off screen.
The annual GQ Men of the Year awards gives GQ magazine readers the chance to vote for the most influential figures in a variety of fields over the past year. Winners are chosen from nominees in the fields of film, television, sports, music, fashion, theatre, literature and food through online voting by GQ readers. Winners are typically featured in an issue of GQ, as well as being honored at the annual Men of the Year awards show.
Smith won the 2010 award for Best Actor which this year went to
Benedict Cumberbatch
of
Sherlock
fame.
Bill Nighy
, who appeared in
Vincent and the Doctor,
who won the 2011 Editor's Special award.