Tuesday, 6 September 2011 - Reported by Chuck Foster
A new one-man stage show based around
Doctor Who
has been announced for the
Melbourne Fringe
, taking place between the 21st September and 9th October: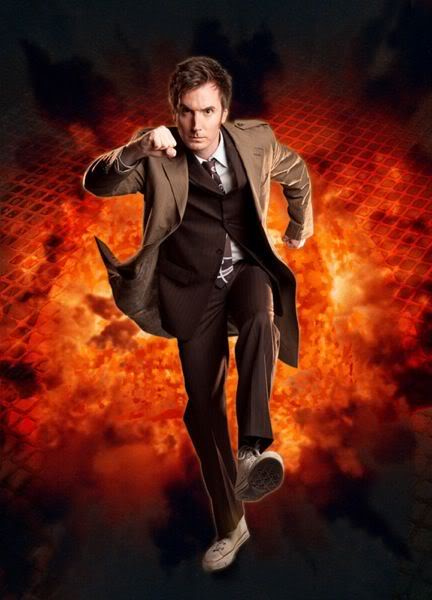 Who, Me.Doctor Who is about to face his greatest challenge: his number one fan. Rob Lloyd (The Hounds, The Mutant Way, A Study in Scarlet (A Study of...) and Fan Number One) is putting the Doctor on trial.Not just for Doctor Who fans, it's a show about obsession and it's many faces. What have you been obsessed with – a celebrity, a football team, a TV show? For Rob, it's Doctor Who all the way.
He will be asking the BIG questions. Investigating whether Doctor Who (the television show) is guilty of inciting in him a debilitating obsession, or whether it has shaped him into a well-rounded, mentally sound member of society. Since 1996 Rob Lloyd has dedicated himself to amassing as much Doctor Who knowledge, well as videos, DVD, novels, audios, action figures and assorted paraphernalia as he can afford. With his replica Jon Pertwee era sonic screwdriver in hand and dressed in his 10th Doctor get up he is ready to jump head first into finding out how and why he got here!
Built up through improvisation and storytelling techniques, this one-man show is a personal and fitting tribute to a television icon. Through the course of the show we will see how one TV program can influence a persons actions, behavior and psyche. You don't need to be a Doctor Who fan to relate to this show, it speaks to anyone who has known obsession. It's a hilarious romp across the Doctor's 48 years, 11 faces and countless adventures.
The 55 minute play is to be performed by Australian actor, comedian and improviser
Rob Lloyd
, known for the cult musical comedy
The Dodge
, comedy troupe
The Crew
and award-winning comedy trio
The Hounds
; he devised the show alongside regular collaborator/director
Scott Gooding
.
Who, Me.
will be performed throughout the Fringe (bar Mondays and final night) - further details and tickets can be purchased via the
Melbourne Fringe
.
(with thanks to Laura Milke Garner/MILKE Performance Industry Services)