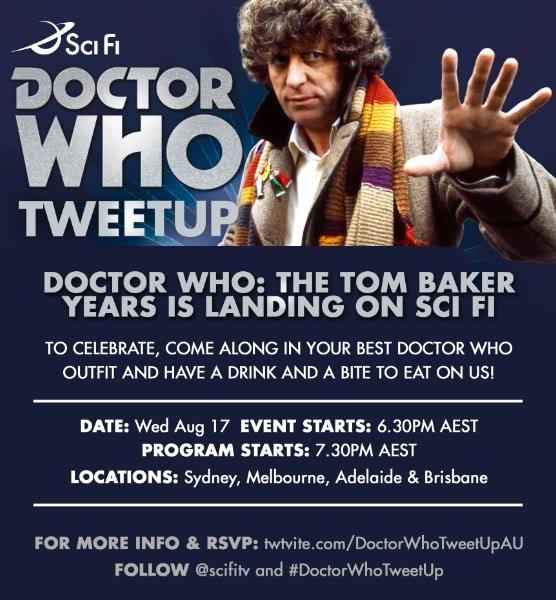 The Sci-Fi channel in Australia is celebrating the return of the Fourth Doctor to the nation's TV screens with a series of free (catered)
Doctor Who TweetUp
events around the country.
The free events are taking place in Sydney, Brisbane, Melbourne and Adelaide on August 17th. Space is limited and entry is on a first come basis.
More details can be found at
twtvite.com/DoctorWhoTweetUpAU
To tie in with with the launch of Doctor Who on the channel, Sci-Fi is also launching
Clustr
, the nation's first branded TV check-in, social networking-enabled smart phone application. Clustr is a forum for viewers to chat in real-time by checking-in to SCI FI programs such as Doctor Who, Lost Girl and many more series, nation-wide. Clustr's functionality allows users to keep track of their favourite series and/or episodes, connect, share and compete with their friends for VIP status, discover badges, and read episode reviews.
Peter Hudson, CEO of SCI FI Channel says
SCI FI wants to reach our viewers with something that is one-of-a-kind, innovative and useful. The Clustr app is a lot of fun but it's also a wonderful way for us to bring our passionate community of viewers together on one platform.
Clustr will be available for free download on Android and iPhones in August.
The SCI FI Channel can be found on n FOXTEL and AUSTAR.