Thursday, 30 June 2011 - Reported by Chuck Foster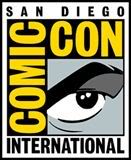 Earlier in the month we
reported
that members of the
Torchwood: Miracle Day"
cast and crew would be appearing as this year's
San Diego Comic Con
, courtesy of Starz. Today,
BBC America
have announced that
Doctor Who
will also be represented, with
Matt Smith
and
Karen Gillan
making their first appearance at such an event.
The two time travellers will be on a panel on
Sunday 24th July
, alongside writer
Toby Whithouse
and executive producers
Beth Willis
and
Piers Wenger
, as detailed below:
12:30 – 1:30 pm, BBC America's Doctor Who – Stars Matt Smith and Karen Gillan make their first Comic-Con appearance for a panel and Q&A with Doctor Who writer Toby Whithouse (Being Human creator) and executive producers Piers Wenger and Beth Willis. They're bringing with them exclusive new footage from the new episodes airing later this summer on BBC AMERICA. Doctor Who follows the adventures of the Doctor, the mysterious traveler who journeys throughout all of time and space, picking up companions along the way and almost always sidestepping danger.

Doctor Who, from award winning lead writer and executive producer Steven Moffat, stars BAFTA nominee Matt Smith as the Doctor and Karen Gillan as his companion Amy Pond, along with Arthur Darvill as Rory and Alex Kingston who plays River Song. Part One of the new season, which premiered in April, delivered record ratings for BBC AMERICA and marked the first time Doctor Who filmed on American soil. Its finale ended with the unveiling of a massive secret and the words "Let's Kill Hitler" on screen.

Part One of Doctor Who arrives on Blu-ray/DVD on July 19 and Part Two premieres late summer on BBC AMERICA's Supernatural Saturdays.