Thursday, 30 June 2011 - Reported by Chuck Foster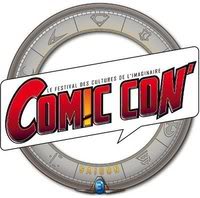 The third annual
French Comic Con
kicks off today at the Paris-Nord Villepinte Exhibition Center, and as reported
last month
will feature a number of
Doctor Who
related activities, not least being the French debut of opening two episodes of Series Six,
The Impossible Astronaut
and
Day of the Moon
.
The two episodes will centre-case the
Sunday
proceedings featuring the event's Guest of Honour,
Steven Moffat
; from 11:30am there will be a masterclass by
Doctor Who
's head writer, followed by episodes themselves from 12:30pm. Afterwards Moffat will feature in a
Doctor Who
conference (2:30pm), followed by a signing session from 4:00pm.
Selected episodes of
Doctor Who
written by Moffat will also be screened, with
Les Anges Pleureurs
(
Blink
) today at 4:00pm, and
La Bibliothèque des Ombres
(
Silence in the Library
/
Forest of the Dead
) tomorrow from 12:30pm.
Saturday is dedicated to Moffat's other successful series,
Sherlock
, which has also been translated into French. A conference on the dub takes place from midday with
Roland Timsit
(artistic director) and
Gilles Morvan
(voice of Sherlock Holmes); this is then followed by a signing session from 1:30pm and then a screening of the first episode,
Une Etude en Rose
(
A Study in Pink
) at 2:45pm.
The full Comic Con schedule can be found on
their website
.
Steven Moffat appears courtesy of a partnership with BBC Worldwide, France 4 and France Television Distribution.(with thanks to Aurélie Demonchaux/Beans on Toast)