Monday, 27 June 2011 - Reported by Chuck Foster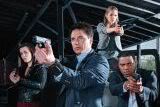 The BBC Press Office have informed us today that
Torchwood: Miracle Day
will most likely premiere on BBC1(HD) on
Thursday 14th July
at
9:00pm
.
The announcement ends months of speculation over when the show would be broadcast in the United Kingdom, with
Starz
announcing Friday 8th July for
Miracle Day
back in March. Canada and Australia see the show a day later, with
SPACE
broadcasting at 9:00pm(ET) and
UKTV
9:30pm on Saturdays.
A full BBC Press Release confirming the date and time is expected in the next couple of days.