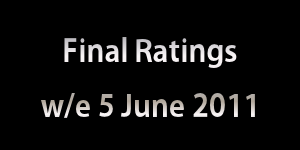 The final episode of
Doctor Who
before the summer break,
A Good Man Goes to War
, just missed out on a top twenty place becoming the
21st
most watched programme of the week.
The week was dominated by
Britain's Got Talent
, which was stripped across the week taking 12 of the top twenty places in the chart and helping to give ITV1 the top nineteen programmes.
Doctor Who was the second most watched programme on BBC Television just being edged out of top place by
The Apprentice
which had 40,000 more viewers.
The figures do not include those watching on iPlayer, where over 1.2 million people accessed the episode within 7 days of the broadcast, against The Apprentice's 1.0 million.