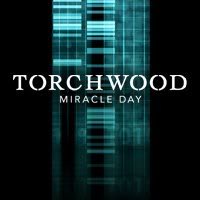 With less than a month to go, publicity is ramping up for
Torchwood: Miracle Day
arriving in the United States on the 8th July. Tonight sees a ten minute preview expected on
Starz
after
Camelot
, and the co-producer of the series has also released two behind-the-scenes videos:
(please note these are only available to watch in the United States)
In addition, a number of short character-specific trailers have also been released, each focussing on an individual star from the series. The videos were released as exclusives by a number of entertainment sites in the United States - some of these were restricted so transcripts of the items follow:

****
**** THIS ARTICLE CONTINUES WITH SEVERAL MEDIA ARTICLE QUOTES AND IMAGES
**** THESE CAN BE CONSIDERED SPOILERS!!!
****




Several pieces have appeared in the media recently; these contain number of plot points, twists and revelations that can certainly be considered spoilers for the forthcoming episodes!
John Barrowman

recently spoke to

Entertainment Weekly

, during which he discussed Jack in the news series; talking on his love life,

"

(Jack)

gets to have full-on boy-sex a couple of times. On those days going to work I'd wake up and Scott my partner would say, 'What are you filming today?' And I'd say, 'Oh it's going to be a tough day, I get to have sex with a 24 year old.'"

. He also commented that:

"you're going to get a lot into the history of Jack; you see one of his big relationships that defines a lot about who he is. You also find out a lot about Jack and Gwen."

.

The article also revealed that in a world where people cannot die, Jack finds that his own mortality has returned. This was expanded upon by

Russell T Davies

in an interview with

AOLTV

:

"Well he's literally, physically different. He's mortal. Everyone else is immortal, he's mortal. It's the biggest switch in the show, which we did in order to give us new insights into Jack. I appreciate what you're saying, that he's a different character. I think that's my job. I [there can be] a great passivity and inertia when it comes to characters on shows that are successful -- they keep coming back and they keep being the same. I'd much rather change them."

Davies was also interviewed by

SFX

; talking about how characters would cope with immortality, he said:

"I think you should never forget that during the greatest national crises people just go to work, and go home, and get on with it. If this really happened, you and I would just carry on as normal. If something conceptual and huge has happened, nonetheless, you've got a deadline tomorrow, and I need to go to work and write a script tomorrow, and if our granddad is ill in bed, he's still ill. So it's a very unusual concept, in that it's hard to dramatise in many ways. That's why I like it. It's a very powerful concept, because it takes hold subtly, and you have to find ways to dramatise it, because it's not immediately obvious."

On the origins of the "Miracle Day" he said:

"It's not a virus, it hasn't spread, it didn't take a day for it to travel from the North pole to the South pole; it's literally a flick of the switch and it's happened. To Jack, that instantly suggests what has happened, and that takes a few episodes to evolve. It's more about explaining what has happened to society while this has happened, that's the real meat of the story. But it is explained in the end, and finding it out… this story goes back in history as well. We've got episodes that go back to 1927, so it's a broad story covering continents and covering time as well; it's one of those stories with a plot that's been planned for decades, so there's a lot of expanse and muscle in the story."

This week

After Elton

published interviews with several of the other guest stars taken during production.

Eve Myles

on Gwen:

"We find Gwen absolutely bored out of her mind but constantly on alert, constantly looking over her shoulder. She will remain on alert for the rest of her life. She's exhausted. You find her living, literally, on the edge of a cliff somewhere in the UK, overlooking the most fabulous beach. They're self-sufficient – they grow their own food, and they live in this cottage. And for Rhys, it's wonderful; for Gwen, it's hell."Kai Owen

on Rhys:

"I think Rhys is kind of an extra-secret member of the team now, especially because of his driving skills, and he's such a normal bloke. He doesn't look like an undercover CIA agent or anything extra-terrestrial. He's just a run-of-the-mill guy who loves his food and loves his beer and his family, and he'll do anything Gwen asks him to. If it means helping her out, and bringing a mission to an end as quickly as possible, he'll help her out, no problem."Bill Pullman

on Oswald:

"He's not necessarily a likable man, in that he's been ostracized, he's got a little bit of a chip on his shoulder, because he's assuming that everyone wants him dead, which is the irony of it all. But he's got great perspective, and he's kind of clever – he's been operating very successfully online for a very long period of time, so he's got some skills that the others don't."

...

"Oswald is fluid, he seems to be back and forth. You see he's got the opportunity, where the world has suddenly changed and he's in the spotlight, and the question becomes, What is fame and how do you use it, and how do other people want to co-opt you when you gain power? And that becomes as much a part of his journey as sneaking around, trying to get into rooms with small people."
Promotional images for the series:
---
The character of Captain Jack of course owes its origins to
Doctor Who
, and
Zap2It
asked
John Barrowman
about whether his character could return to meet up with the Doctor once more:
It's in the cards, but who knows whether it will happen? I like Matt Smith. He brings his own quirkiness to it... When a new Doctor starts, everybody goes along for the journey because they love the show. But then you attach yourself to that Doctor. There's a whole new generation who are now attached to Matt, and rightly so.... but David Tennant is my Doctor.
However, should
Torchwood
prove successful for Starz, it would seem likely that a second series would be made: a recent announcement on tax credits made as part the Californian incentive plan to keep projects and jobs in the state intimated that this was possible, with
Bad Wolf Productions
(the
BBC Worldwide Americas company
set up for the show) being allocated some $8 million dollars - the highest allocation of the $100 million pot!