Alex Kingston
(River Song)
talks about her new role as the titular
Luise Miller
: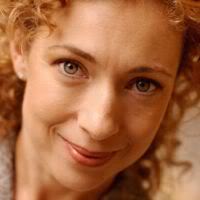 "I'd wanted to work on stage here again, and to work with Michael
(Grandage, director)
, for a long time. We'd discussed projects - an Ibsen, I think - but the timing has never been convenient.
For me the hardest thing to negotiate is time away from my family. But this series of
Doctor Who
was shot during my daughter's spring break, so she could come over for that. And
Luise Miller
coincides pretty much with her summer holiday. So I was able to prepare myself psychologically for her going back to school, thinking: six weeks is really hard but it will be all right because she'll be with me for the summer again.
If Michael had offered me this during term time I don't know if I could have accepted it. That said, this is what I do. I wanted to be an actor to perform plays, to work with other people to create something. If you think of creativity as a muscle that has to be exercised, there isn't that much opportunity to do that in television.
[Evening Standard, 1 Jun 2011]
Billie Piper
(Rose Tyler)
reflects on her time, post-
Doctor Who
: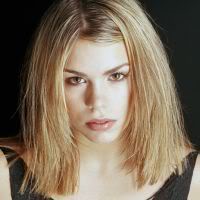 ...
it's totally the end of
Doctor Who
for me, too. I can't imagine anything would bring me back, and they're done with Rose.
They've got this great new set up with Matt Smith and Karen Gillan and it works brilliantly. So there's no way in the world it will happen again for me – well not for the foreseeable future.
Both Belle and Rose have been brilliant for my career, but I don't know yet if they might become curses some day. They haven't been so far, but who knows? The problem with something like
Secret Diary
is that you could end up getting endless sexy scripts and a long line of sexual predator parts, which you could tire of.
It's not something I want to keep doing over and over again. And I got a lot of stick about it, too. Playing a prostitute doesn't go down well with everyone, surprisingly. But the role took me into the American market, which is fantastic.
[The Mirror, 21 May 2011]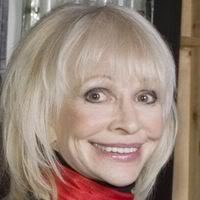 Katy Manning
(Jo Grant/Jones)
is to appear in the film
The Haunting of Harry Payne
which is currently being filmed in East Anglia. The film is described as a gangster/ghost story, where an ex-London gangster starts to experience forces after killing his former gangland boss. The film also features
Graham Cole
, who appeared in a number of stories in the early 1980s.
[Norwich Advertiser, 26 May 2011]
In the run-up to the BAFTAs, writer
Mark Gatiss
reflected on his workload over the last year, the importantance of BBC commissioning, and the hot-topic of ratings:
I had a bit of a mad year, to be honest, and was sick of the sight of myself by Christmas, so God knows how everyone else felt. In my defence, scheduling is a curious beast and it fell out that two things I'd made the previous year (
The First Men in the Moon
and
Worried About the Boy
) ended up being shown slap-bang in the middle of my
History of Horror
documentary series for BBC4. On that subject I must take this opportunity to record how fantastic it is that there's still a place where a passion project (as that series most certainly was) can be so championed and encouraged. Equally, that documentaries as startling and oddly moving as
The Young Ones
and as rich and strange as T
he Dancing Boys of Afghanistan
still have such a valued place.
Speaking of scheduling, it's worth saying that when
Sherlock
was scheduled to air in the traditionally dead summer slot it seemed like very bad news. It's a measure of how differently we now watch shows that this didn't prove to be the case. Whether catching up on iPlayer, recording on our Sky boxes or downloading our favourites, overnight ratings are ceasing to have any meaning. But you mustn't get me started on ratings or I'll start singing "The King is in the Altogether" and we'll be here till Christmas.
[The Observer, 22 May 2011]
Writer
David Fisher
commented on how he was asked to get the physics right in his
Doctor Who
stories: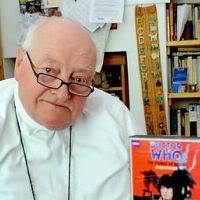 I remember being called in once. The producer said, "We've got a major problem. We've had letters from 12-year-old boys saying the physics couldn't work. In the future, can you guarantee the physics will work"?
Mr Fisher decided to get in touch with scientists working at a Cambridge astronomy centre, near where he lived, and asked if he could talk some ideas through with them.
It turned out they were Doctor Who mad.
The experts helped him not only come up with a way for the Creature in the Pit to threaten an entire planet with a neutron star but also a way to stop it.
They said "that's perfectly simple too. Just wrap it in tin foil".
[East Anglian Daily Press, 23 May 2011]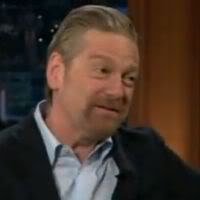 Film director
Kenneth Branagh
recently appeared on
The Late Late Show
in America, where he was ostensibly there to talk about his new film,
Thor
, but then spent much of the interview chatting about
Doctor Who
, Matt Smith, and the TARDIS (with host Craig Ferguson strongly suggesting he should meet Karen Gillan!).
[The Late Late Show, 10 May 2011]