Monday, 11 April 2011 - Reported by Harry Ward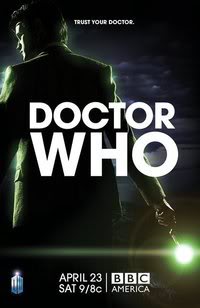 BBC America has organised a premiere screening of
The Impossible Astronaut
/
Day of the Moon
and a Doctor Who themed party at the
The Bell House
in Brooklyn, New York on April 19. You can buy tickets for this even from the
event page
on TicketWeb. Full details below.
Tuesday, Apr 19, 2011 7:00 PM EDT
The Bell House, Brooklyn, NY
21 years and over
General admission - $5.00
Come be among the first in Brooklyn to see the first two episodes of the new season of Doctor Who!
Put on your best bow tie, grab your sonic screwdriver and head over to The Bell House on Tuesday, April 19th - BBC AMERICA and Secret Formula are bringing you a first look at the new season of Doctor Who. It's the Doctor Who New Season Premiere Party! Why wait until Saturday, April 23rd for the official TV premiere on BBC AMERICA when you can join all of your friends and fellow Doctor Who fans for a party that will be remembered throughout time and space! We're going way beyond just showing you the 2-part premiere episodes - we're turning The Bell House into the inside of the TARDIS and there will be plenty of games, contests, food and fun to be had including...
The Brooklyn premiere of the first and second episodes of the new season
Doctor Who Trivia Competition
Character Impersonation Contest and Villain-Off
Costume Contest
Time Travel Lecturer
Doctor Who-based sketch comedy and stand-up from Upright Citizen's Brigade
members
Spin the time travel wheel for a chance to win prizes and free drinks
Prizes from The Bell House and BBC AMERICA including DVD's, Doctor Who
merch and more!
Themed drinks like the 11th Doctor, Love is a Ginger, The Pandorica, Fish &
Custard and more!
A delicious selection of English foods served by Brooklyn's ChipShop
TARDIS & Dalek cookies and the Doctor's Fez cupcakes provided by Geek Treats