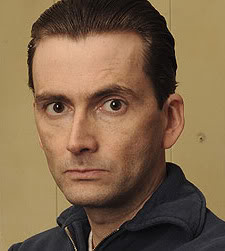 The BBC has released more information about the new BBC Two drama starring
David Tennant
as coach Jimmy Murphy.
United
is based on the true story of Manchester United's legendary "
Busby Babes
", the youngest side ever to win the Football League; the 1958 Munich Air Crash that claimed eight of their number; and the extraordinary spirit of a city that rebuilt the team in the wake of the disaster. The
Munich Air Crash
killed 23 of the 43 passengers on board, including supporters, journalists and embassy staff.
The drama was shot between November and December 2010 in and around the north of England and was written by
Chris Chibnall
and directed by
James Strong
, both of whom have previously worked on
Torchwood
and
Doctor Who
.
Tennant was asked in an interview with BBC; "What attracted you to United?"
I've worked with James Strong and Chris Chibnall several times before and James sent me the script. I knew it would be worth reading because it came from him. I'm not a football expert but I was completely bowled over by the incredible story and journey that Manchester United went on. I thought that if it had grabbed and moved me as much as that, then clearly the story must be universal, worth telling and something I wanted to be part of.
You can read the full interview
here
.
United
will broadcast in Week 17, 23rd - 29th April. An exact time and date is still to be announced.