Sunday, 1 May 2011 - Reported by Marcus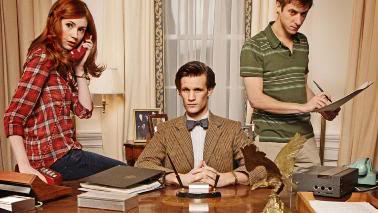 5.4 million viewers tuned in to watch
Day of the Moon
in the UK yesterday, according to unofficial overnight figures.
The rating is a drop of a million on the series opener, not helped by the early timeslot and the sunny weather across the UK for the Bank Holiday weekend. However Doctor Who was still the
second
most watched programme on British television Saturday Night, with
Britain's Got Talent
once more topping the charts with 9.5 million. Nothing else on Saturday night achieved more then 5.0 million viewers.
Up against Doctor Who,
New People Do the Funniest Things
on ITV1 was watched by 1.9 million, up half a million on the programme shown last week.
Doctor Who inherited just 1.7 million viewers from its predecessor,
Don't Scare the Hare
, which, with an average of just 1.4 million viewers has lost a quarter of its viewers since last week, not surprisingly as the premier show achieved one of the poorest AI scores of all time. Doctor Who's audience peaked at 5.7 million for the last 15 minutes, with the BBC One audience dropping to 2.9 million as the programme finished.
Od the audience, 0.67 million watched on BBCOne HD.
Doctor Who is currently
35th
for the week. although this position should change substantially when final figures are released and a top twenty place is still possible.
On BBC Three,
Doctor Who Confidential
had
0.36
million viewers, with an additional
32,000
watching on BBC HD, a drop of 200,000 on last week, not helped by the gap between the end of Doctor Who on BBC One and the start of Doctor Who Confidential on BBC Three.