Wednesday, 30 March 2011 - Reported by Harry Ward
The BBC have now released a full length, 60 second trailer for
Doctor Who
, which is available via their
YouTube channel
; the trailer introduces a mixture of clips and teasers for the forthcoming series due to commence this
Easter
.
The trailer was broadcast on the main BBC channels at 8:00pm in the evening (Wednesday) - however, there was a subtle difference between this and the online version in some regions, indicating that - like the
teaser
- there are (at least) two versions being broadcast!
In the online version at 24 seconds in, there a clip with the Doctor and crew by the "exploding console"; this was replaced in the broadcast version by a close-up of an alien, believed to be a Silent: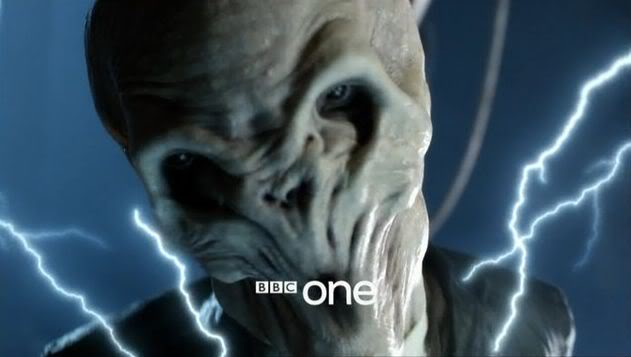 Unfortunately the BBC1 premier, shown just before
Waterloo Road
, suffered from a technical fault in several regions leading to a blank screen for the first twenty seconds or so.
---
Shortly after the trailer was released online, an announcement was made on the BBC Doctor Who website for a competition to win tickets to an exclusive screening of
The Impossible Astronaut
and
Day of the Moon
in London on Monday, 4 April, 2011 at 6:30pm.