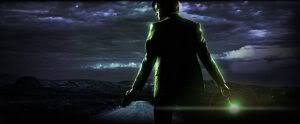 Having whetted our appetites with the two teaser trailers
last week
, the first episode
prelude
a couple of days later, and then an
"iconic" image
for the episode itself, the BBC are now about to unleash a new
60 second trailer
which will premier on
BBC1
on Wednesday.
No time has been confirmed for the trailer at present, though it is expected to during primetime viewing in the evening.
The trailer will also be broadcast on the
CBBC
channel, but in a shortened
20 second
form to remove some of the 'scarier' scenes, as BBC Publicity clarified:
The trailer is a 60" and we usually play them on CBBC as well (for obvious reasons). We think this will be the first that will need to be edited down to a 20" to make it suitable and remove the scary bits (remember that we have six year olds and younger watch CBBC as well as twelve year olds)

The 20" is just for CBBC. The 60" also has a 40" cut-down version that will be rotated in.

Update: the 60" trailer was originally reported for Tuesday evening, but has been put back to Wednesday.