IDW Publishing
announced at this weekend's Chicago Comic & Entertainment Expo (C2E2) that their line of Doctor Who comics will be available worldwide for the iPad, iPhone and other iOS devices through Apple's iTunes effective immediately. They will also be launching the line of comics on the Sony PSP within weeks.
Until now, IDW's original Doctor Who comics were only available in North America which left many fans unable to view the Tenth and Eleventh Doctor's adventures. With this announcement, fans will be able to purchase and view not only IDW's original line of Doctor Who comics but also many of the classic comics from Doctor Who Magazine which have been digitally colored for the first time.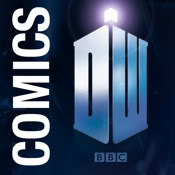 Doctor Who Comics! The complete comic book adventures of the Doctor, all in one app. Only from IDW Publishing, the leader in digital comics.
IDW Publishing presents the critically acclaimed DOCTOR WHO comic book series. The Doctor Who Comics app features all-new adventures of
Matt Smith
, the Eleventh Doctor, as well as the 10th Doctor,
David Tennant
, and classics from decades past.
Includes 3 free comics, with over 40 comics available!
Each comic has been formatted to view as the entire page or custom crafted panels for the iPhone and iPod touch that make reading easy and fun. Shop for new issues in a familiar, easy to use store front, and view your collection on your virtual bookshelf.