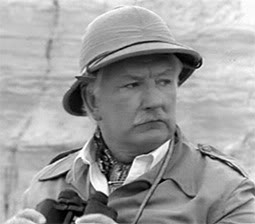 The actor
T.P. McKenna
has died, aged 81.
He appeared in the Season 25, seventh Doctor story,
The Greatest Show in the Galaxy
, playing the intergalactic explorer, Captain Cook.
Born Thomas Patrick McKenna, he made his stage debut in
Summer and Smoke
by Tennessee Williams at the Pike Theatre in Dublin 1954. He continued to appear in therater productions with the Royal Shakespeare Company and the Royal National Theatre Company.
Following several years on the stage with, he began appearing in popular television dramas from the 1960s including
Dangerman
,
Adam Adamant
,
The Avengers
,
The Saint
,
Jason King
,
The Sweeney
,
Blakes 7
and
Minder
.
He also featured prominently in other television dramas including
The Duchess of Malfi
,
The Changeling
,
Napoleon and Love
,
Holocaust
,
The Manions of America
,
To The Lighthouse
,
Bleak House
,
Strong Medicine
,
Jack the Ripper
, and the final episode of
Inspector Morse
. McKenna had fulfilled a long-held ambition to appear with John Thaw in
Inspector Morse
.
He had film roles in
Ulysses
,
Straw Dogs
, and
A Portrait of the Artist As A Young Man
. In 1985 he appeared in
The Doctor and the Devils
alongside
Timothy Dalton
(Rassilon,
The End of Time
).
He died on 13th February in London following a long illness. He will be laid to rest in Mullagh, County Cavan, Ireland alongside his wife May, who died five years ago. He is survived by his sons Rafe, Killian, Breffní and Stephen and his daughter Sally.
Thomas Patrick McKenna (7th September 1929 – 13th February 2011)Media coverage by: BBC News, The Irish Times, The Telegraph.